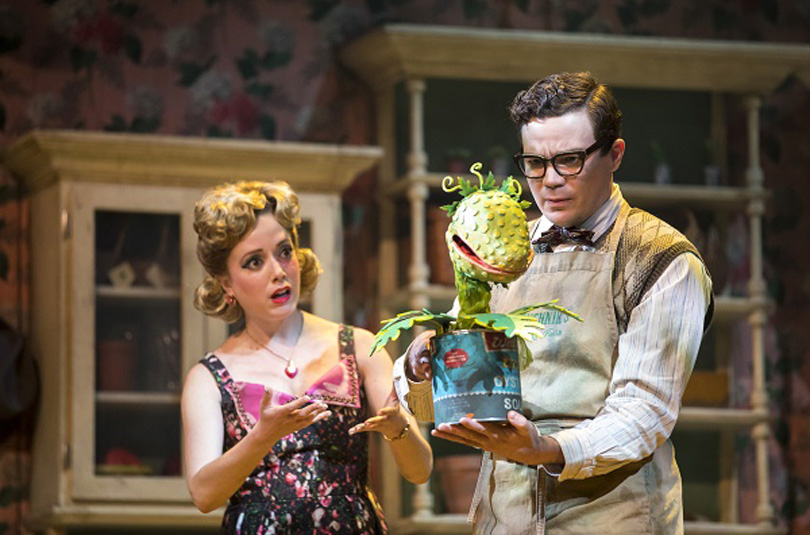 Little Shop of Horrors at the Stratford Festival
Let's cut to the chase — Donna Feore is a genius.
The director/choreographer, who is known for her pyrotechnic and acrobatic dance numbers and spot-on visual flair, has taken on Little Shop of Horrors, something of a chamber rock musical, if you will, that was originally created in 1982 for the smaller stages and budgets of Off-Off-Broadway and now holds forth on the Stratford Festival's Avon stage. But if her canvas is small the effects she achieves are monumental.
Little Shop tells the tale of Seymour Krelborn (Andre Morin), a painfully shy orphan raised in Dickensian fashion by Mr. Mushnik (Steve Ross) in a florist shop on Skid Row. Seymour pines for Audrey (Gabi Epstein), the shop's other employee, although she has eyes only for Orin Scrivello (Dan Chameroy), a sadistic dentist who beats her regularly, like a gong.
One day, Seymour comes into possession of an extraterrestrial plant, a sort of Venus flytrap that he soon discovers has a taste for human blood. The plant, which Seymour dubs Audrey II, thrives on a diet of Seymour's blood, squeezed out of cuts that multiply as fast as the plant grows. The plant first attracts customers, then fame and fortune for Seymour and the shop, but it's growing appetite forces Seymour to make some unpleasant moral choices.
So in addition to being a fun homage to the clichés of drive-in B-movie sci-fi and 50s-style doo-wop and R&B, Little Shop is a morality tale that asks the ever-pertinent question "What price fame?"
It's fitting then that the show uses a sort of Greek chorus to frame the story and comment on the action. Vanessa Sears, Starr Domingue, and Camille Eanga-Selenge are nothing short of brilliant as Ronette, Crystal, and Chiffon, whose names pay homage to three famous black girl groups of the 50s and 60s.
The opening number, the show's title song, stops just short of being a literal show stopper. Not only are these three women gorgeous, with voices to match, but Feore has created for them a version of the synchronized movement of those bygone girl groups that is rhapsodic. It's as if she has taken a simple ditty and transformed it into a symphony. If that number doesn't hook you, there's something wrong with you.
And Howard Ashman (book and lyrics) and Alan Menken (music) are just getting started. It's not surprising that this show made their reputation or that Disney snapped them up to create a string of successful scores for its animated classics.
It can be argued that the real star of Little Shop of Horrors is Audrey II and the effects wizards at the Festival have created something (several somethings actually since Audrey II keeps growing) that is simply dazzling. It's altogether fitting that that the four puppeteers and the voice (Matthew G. Brown) that bring Audrey II to life are prominently featured in the curtain calls.
The human performers are no slouches either. Gabi Epstein, making a smashing Festival debut, has a voice that lifts the roof off the Avon, and her squeaky, little-girl New York accent is dead on. Andre Morin keeps adding to his range as an actor with his poignant and ultimately heroic Seymour, and Steve Ross adds yet another jewel to his crown as one of the Festival's indispensable company members.
Dan Chameroy is one of those protean performers who make going to see live theatre worthwhile. His smarmy, leather-clad dentist is hysterical, but he is every bit as impressive when he plays, in rapid succession, all of the agents, impresarios, fame merchants, and hangers-on who want to hitch their wagons to Seymour's rising star. His performance is all the more impressive if you saw him as the father in Billy Elliot The Musical.
Everything about Little Shop is nigh on perfect. The fever dream of a deteriorating New York created by Michael Gianfrancesco (sets), Dana Osborne (costumes), Michael Walton (lights), and especially Jamie Nesbitt (projections) brought me back to the mean streets I trod in the 70s.
Finally, a tip of the hat to performers who would go unsung in a lesser production. It's a testament to either the dedication of Stratford's actors or Donna Feore's ability to get great performers to appear in small roles that she has enlisted Marcus Nance and Blythe Wilson to play a wino and a bag lady. They prove the point that there are no small roles.
It's unlikely that Little Shop will match the record set by last season's Rocky Horror Show, but expect this one to be extended well into the Fall.
More Reviews
To access the complete archive of reviews listed alphabetically CLICK HERE.