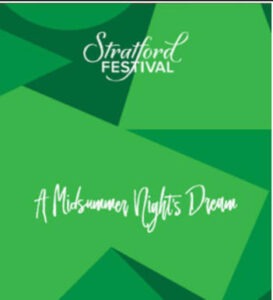 Midsummer Night's Dream Streaming on Stratfest@Home
Before he tackled the job of desecrating Shakespeare's Hamlet in 2022, director Peter Pasyk warmed up with the Bard's Midsummer Night's Dream in 2021.
The script has been ruthlessly cut to accommodate a cast of just eight and an intermission-less running time of about 90 minutes. Fair enough. Stranger things have been done to the play, like Peter Sellar's bizarro four-character deconstruction in the 2014 season. It's probably a safe bet that no one who cherishes fond memories of good productions of Midsummer Night's Dream will be happy.
Far more problematic than the cuts is the acting. Most of the company were either in the Festival's finishing school for classical actors, the Birmingham Conservatory, or recent graduates. All of them had obviously aced the course in Indicating. Some had clearly done post-graduate work in Advanced Overacting Techniques.
All of them were miked, which didn't stop the four mismatched lovers from SHOUTING THEIR LINES while running about gesticulating wildly. It became wearing very quickly.
Lorenzo Savoini's costumes didn't help much. They were an odd mish-mosh that gave the impression of having been pulled from several different productions of several different plays.
Amazingly enough, there were two performers who, seemingly against all odds, were actually quite good. Trish Lindström as Puck was costumed as a sort of post-modern clown, with a menacing edge. It was an intriguing choice and she carried it off well. Too bad it seemed as if she had dropped in from some other, better production.
Best of all was André Sills as Bottom. His performance was big, bold, and boisterous but it was rooted in reality and never tumbled over into the overacting that plagued most of his castmates. It would be great fun to see him tackle the role in a good production.
Pasyk tarted up the show with all manner of oh-so-clever "improvements." There were eye-winking references to same-sex copulations – "Jack shall have Jill, and Jill shall have Jill, and Jack shall have Jack" – which were acted out with enthusiastic moans and groans under an all-encompassing sheet. When the orgiasts emerged in their deshabille, one woman was wearing a day-glo, strap-on dildo, while one of the men sported a bra. So as not to leave Titania out of the fun, the director had her squat down on Bottom's top and simulate a lively screw.
Given all this, I found it wryly amusing that, when Tom Snout played "Wall" in the "Pyramus and Thisbe" interlude, Pasyk chose to change the word "chink" to "kink." I mean, we wouldn't want anyone to be offended now would we?
As I work my way through these filmed records of the 2021 season, I am feeling less and less deprived that the border was closed to me.
[I was unable to attend the Stratford Festival's truncated 2021 season because the border was closed to "non-essential travel" during the pandemic. However, the plays presented that season were filmed and are currently available on Stratfest@Home, the Festival's very own streaming service. This is one of a series of reviews of those plays.]
Don't miss another review. Follow OntarioStage on Twitter.
For a complete Index of Reviews, CLICK HERE