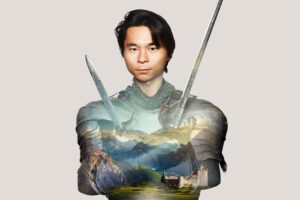 Prince Caspian at the Shaw Festival
The Shaw Festival continues its exploration of C. S. Lewis's Narnia novels with Prince Caspian, now enjoying its world premiere at the Royal George Theatre in Niagara-on-the-Lake. It's another substantial entry in Shaw's list of plays for young audiences. (The earlier outings in the series were The Magician's Nephew in 2018 and The Horse and His Boy in 2019.)
This entry in the Narnia canon is the handiwork of Damian Atkins, a Shaw Festival actor (he appears this season in Blithe Spirit and The Shadow of a Doubt) who is also an accomplished playwright. Adapting this material to the stage presents considerable challenges and Atkins surmounts them somewhat sporadically. Early on he leans rather too heavily to the hoary device of a narrator, but as the adventure progresses the narration gives way to more fluid action.
Whatever reservations I may have had about the script were easily assuaged by Molly Atkinson's imaginative direction and the gifted cast of eleven she uses to create the magical realm of Narnia. She has able accomplices in designer Cory Sincennes (set and costumes), Jareth Li (lighting) and Alessandro Juliani (original music and sound design).
Prince Caspian was the second Narnia novel to be published, but once the series was complete its publisher rearranged the books in Narnian chronological order. And so Atkins' play positions itself as Book IV in a brief bit in which titles are projected on a black sheet used to mask a scene change. The device reminded this oldster of those Saturday matinee serials at the local movie house, an altogether appropriate image for the convoluted fantasy adventure Lewis and Atkins spin here.
Atkins finesses the artificiality of the narration device by using the novel's Doctor Cornelius in that role. Fiona Byrne handles the assignment beautifully. Hers is a commanding – I'm tempted to say "magical" – presence, and as she delivered the exhortation to believe in things that cannot be explained, the young audience with whom I saw the show hushed to a respectful silence that lasted the full two-hour plus running time. I also admired the way Atkins inserted the mandatory and usually rather stilted "land acknowledgement" in a way that blended seamlessly with the narrator's message.
Prince Caspian tells of the further adventures of the Pevensie siblings, Peter (Kyle Blair), Susan (Marla McLean), Edmund (Andrew Lawrie), and Lucy (Kiana Woo), the kids who discovered Narnia in The Lion, The Witch, and the Wardrobe, the first novel in the cycle.
They are magically whisked from a chilly railway station (and thereby seemingly saved from boarding school) back to Narnia. A year has passed in their lives but some 1,300 years have gone by in Narnia. Time has not been kind to the scene of their previous triumphs, where they became kings and queens.
It seems Narnia has fallen into the clutches of invading Telmarines and memories of Narnia's golden age are vestigial at best. Notions of dwarves, talking animals, and friendly, peripatetic trees are derided as rank superstition.
Even worse Prince Caspian's (Michael Man) uncle Miraz (Sanjay Talwar) has murdered Caspian's father and usurped the throne. Now that Miraz has produced an heir Caspian's position is, shall we say, unenviable. Wisely, he decides to flee.
It will come as no surprise that the kids champion Prince Caspian's cause and proceed to set things to rights, with the requisite numbers of obstacles and magical encounters that the genre demands. If you come to Prince Caspian with a son, daughter, or grandchild steeped in the Lewis novels, they will be enthralled. If you are new to the material, Atkinson and her cast will fill you in quite nicely.
The real enjoyment in this Prince Caspian is divided more or less equally between the physical production and the performances. Sincennes' set is dominated by a massive, sinewy, and sentient tree; his costumes are never less than witty and, in the case of those peripatetic trees and the evil King Miraz, absolutely stunning.
I assume that Sincennes is also responsible for creating the centaur Glenstorm (Qasim Khan) and the truncated puppet of the lion Aslan (also Khan). Both are exemplars of their genre.
There is a lot of stage combat in Prince Caspian and by and large, under the direction of John Stead, it is impressive. But having come of age in a time when the physical well-being of actors was not the high priority it is today and stage combat regularly produced real blood, I found it rather bland.
The eleven credited actors manage to produce a seeming cast of thousands, although I suspect some of the understudies appeared as uncredited supernumeraries.
I have already singled out Fiona Byrne's performance as Doctor Cornelius. Other performers I found impressive (and in no particular order) were Shane Carty as the dwarf Trumpkin and Sanjay Talwar doubling brilliantly as Miraz and the dwarf Nikabrik. Jade Repeta proved a very foxy Glozelle and newcomer Kiana Woo shone as Lucy.
Woo was the most successful of the siblings at making me believe she was a child. It made me think how intriguing it would be to see this play cast with actual children in those roles. I'm guessing Atkinson could pull it off.
C. S. Lewis is famous as a Christian apologist and his Narnia novels reflect that. Yet Prince Caspian at Shaw seems to preach a more ecumenical and ecological gospel: respect the miracles of nature and listen to the animals. Not a bad message for young people who are condemned to live in a world their parents and grandparents have done so much to muck up.
Prince Caspian plays at the Shaw Festival's Royal George Theatre through October 8, 2023. For more information and to purchase tickets visit the Shaw Festival website.
(image: Michael Man as Prince Caspian, Shaw Festival)
Don't miss another review. Follow OntarioStage on Twitter.
For a complete Index of Reviews, CLICK HERE