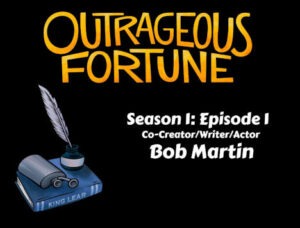 A New Slings and Arrows Podcast Debuts
Slings and Arrows fans rejoice. A "kind of official" podcast devoted to the cult favorite is now available and it's a great way to mark the show's twentieth anniversary year.
Outrageous Fortune, as the podcast is dubbed, promises to be a gold mine for fans who can't get enough trivia about Slings and Arrows, its creators, and stars.
The podcast is the brainchild of Theatre Geeks Anonymous, a duo composed of Ebony Vines and Pamela Shandrow, two young women who are starting professional careers but who have yet to abandon their giggly fan girl enthusiasm for all things theatre. The "geeks" in their title is altogether appropriate and rather endearing.
The first two episodes feature interviews with Bob Martin and Mark McKinney, co-writers (along with Susan Coyne) of Slings and Arrows.
Outrageous Fortune has some wrinkles to iron out. The audio waxes and wanes for one thing, and the interviewing is a tad too gushy for my taste but – hey – that's part of the podcast's charm and I doubt any Slings and Arrows fan is going to complain too much.
No word yet on what's coming next, but I for one am not going to miss an episode.
You can find Outrageous Fortune on the Broadway Podcast Network or subscribe on your favorite podcast platform.
And if you are not already a Slings and Arrows fan, do yourself a favour and get with the program!