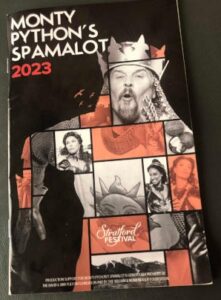 Spamalot At The Stratford Festival
Eric Idle's Spamalot, now holding forth at the Stratford Festival's Avon Theatre, is surely up for some sort of ecological award. After all, everything in it is recycled. Not that there's anything wrong with that.
Whether you'll enjoy this Spamalot will depend to a great extent on your level of devotion to the Monty Python canon. Those who are unfamiliar with the Python's television series or films such as Monty Python and the Holy Grail or The Life of Brian (do such people exist?) may wonder why people around them are having such a rollicking good time.
I will confess to being a Python fan and yet I found myself only intermittently amused by the proceedings, perhaps because the show seems like yet another pro forma attempt to squeeze a few more bucks from a beloved property.
Still, you have to give Python alum Idle a big tip of the hat for contributing not just the book and lyrics but the music well, with an assist from John Du Prez.
While basically following the plot of "Monty Python and the Holy Grail," Spamalot throws in a few additional elements, like the ever-popular "Always Look On The Bright Side," along with some arch and quite amusing commentary on the cliches of Broadway musicals.
There are clever parodies of bits from Phantom of the Opera, Fiddler on the Roof, and probably a few others I missed. That said, "You Won't Succeed on Broadway," with its advice that a show can't make it on the Great White Way "if you don't have any Jews" seemed rather dated. It might have killed in 2005 when Spamalot debuted, but today, with the rise of anti-semitism in the United States, I found it vaguely uncomfortable.
What really makes Spamalot worth a trip to Stratford is the star-studded production it receives thanks to director Lezlie Wade and choreographer Jesse Robb.
The cast is an embarrassment of riches. Jennifer Rider-Shaw, fresh from her triumph as Velma in last season's Chicago, is a stunning Lady of the Lake. The Festival has seemingly decided that she cannot make a "normal" entrance. In Chicago she descended from on high; in Spamalot she rises from the traps or cruises on and off in a motorized boat.
Her substantial vocal chops make over-the-top numbers like "Knights of the Round Table," "Find Your Grail," and "What Ever Happened To My Part" highlights of the show.
Holding his own against Rider-Shaw's powerful competition, is Jonathan Goad as King Arthur. Not too long ago Goad delivered an admirable Hamlet at the Festival that has yet to be surpassed. In Spamalot he proves himself an endearing and nimble-footed farceur.
And speaking of farce, Eddie Glen as King Arthur's coconut-clopping sidekick Patsy, in one of his all-to-infrequent appearances on Festival stages, gives a master class in how to steal a scene. His turn in "I'm All Alone" is ever so subtly priceless. He also plays two other minor characters.
Everyone else in the company doubles, trebles, quadruples, and for all I know quintuples and sextuples in numerous roles.
Aaron Krohn, returning to Stratford after a too-long absence, is splendid as Sir Lancelot, a knight of the round closet, who comes out spectacularly in the number "His Name Is Lancelot," which is gay in every sense of the word.
On top of that, he also portrays – brilliantly – The French Taunter, Knight of Ni, and the terrifyingly suspended Tim the Enchanter, among others, and is completely unrecognizable in each role.
Liam Tobin, a handsome and statuesque newcomer to Stratford, makes a magnificent Sir Galahad. He also reappears, unrecognizable, as Prince Herbert's Father. Let's hope he becomes a Stratford regular.
Also catching my attention were Josh Doig as Prince Herbert, Henry Firmston as Not Dead Fred, and Trevor Patt as the musical comedy loving Sir Robin. All three also play other roles.
All of this performing excellence is abetted by designers David Boechler (sets and costumes), Renée Brode (lighting), and Sean Nieuwenhuis (projections). Laura Burton conducted the always excellent Festival orchestra.
While I wasn't bothered by the now de rigeur mic'ing of cast and musicians, I heard several complaints about the sound levels, especially from people in the balcony. emily c. porter [sic] is credited with sound design.
Ultimately, it's hard not to love a show that wraps up with an audience singalong of "Always Look On The Bright Side," which sent us all out of the theatre in a good mood.
Spamalot continues at the Stratford Festival's Avon Theatre through October 31, 2023. For more information and to purchase tickets visit the Stratford Festival website. [https://www.stratfordfestival.ca/]
Footnote: God makes an appearance in this show and is clearly identified as female. Is this progress? Do today's women really want to be identified with a Supreme Being that petty and vindictive?
Don't miss another review. Follow OntarioStage on Twitter.
For a complete Index of Reviews, CLICK HERE