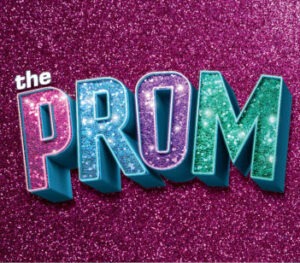 The Prom At Drayton
The slight but sprightly musical comedy The Prom, a modest succès d'estime on Broadway in 2018, rests on an odd premise.
Dee Dee Allen (Blythe Wilson) and Barry Glickman (Andrew Scanlon), two stars with solid Broadway cred (two Tonys and a Drama Desk Award) are headlining a musical based on Eleanor Roosevelt. Good reviews will mean that "this tour de force will not be forced to tour." Alas, a scathing review from the New York Times, which brands them as over-the-hill narcissists, closes the show on opening night.
Commiserating with two colleagues, Angie Dickinson (Jackie Mustakas), a twenty year veteran of the chorus of Chicago who has never gotten her shot at playing Roxie, and Trent Oliver (Eric Craig), a pompous Juilliard grad whose main claim to fame is a decades-old sitcom, they decide that the time has come to resurrect their reputations and burnish their images by becoming "celebrity activists."
Scrolling through what's trending on Twitter, they discover a gay girl in Indiana whose prom has been cancelled to avoid the spectacle of a same sex couple defiling the prom. And so the four, along with their PR flack (Geoff Whynot) are off to Indiana – on the bus of a non-Equity tour of Godspell no less – to "save the world, one lesbian at a time!"
An odd premise indeed, but then the book is co-written by Bob Martin whose The Drowsy Chaperone rested on an equally odd premise. Perhaps, then, it's not too surprising that everything works out surprisingly well. (Jack Viertel is credited for the "original concept.")
Edgewater, Indiana, is predictably nonplussed by the arrival of these entitled and self-described "liberal Democrats" bent on resurrecting the prom. Young Emma (Annika Tupper), the Hoosier lesbian in question, is at first receptive and then dismissive of their attempts to "save" her.
In a subplot, Dee Dee is brought out of her self-absorbed shell by Emma's principal, the sympathetic Mr. Hawkins (Cassel Miles), who in addition to being Emma's champion is a Broadway aficionado who is a big fan of Dee Dee's.
Eventually, in the way of feel-good tales like this, she saves herself – not with Broadway razzle-dazzle but with a confessional video that goes viral on social media.
The Prom has book and lyrics by Chad Beguelin, whose lyrics graced Disney's Aladdin and Elf, The Musical. The music is by Matthew Sklar, also of Elf fame. For my money, the lyrics, which are often laugh-out-loud funny, far outshine the music, which may suffer from the lack of a Broadway-sized orchestra. That said, music director Steve Thomas works wonders with his five-piece band.
The musical numbers are at their best when they are at their most sarcastic. Trent Oliver's ghastly attempt at writing an inspirational anthem ("The Acceptance Song"), backed by the kids from Godspell, is a standout.
"It's Not About Me," the unintentionally self-revealing number by the four self-appointed heroes of the piece is another winner.
All of this is orchestrated expertly by director/choreographer David Connolly. The Act Two finale, "It's Time To Dance," with the entire company giving their all, inspired a standing ovation, which for once I felt was almost deserved. His dances quote wittily from the styles of famous choreographers and I'm am sure there are more such insider references than the ones I picked up on.
Drayton has given The Prom a highly enjoyable and surprisingly lavish production, given the intimacy of the venue and what I can only assume was a less-than-Broadway level budget. David Boechler has contributed a versatile and colorful set ably abetted by Kaileigh Krysztofiak's nimble lighting plot.
The Prom's programme suggests that the witty costumes are recreations of the Broadway originals by Anne Roth and Matthew Pachtman and they work beautifully.
The always reliable Blythe Wilson makes Dee Dee a lovable diva despite (or maybe just a little bit because of) her incredible self-absorption. I have only seen Andrew Scanlon in small roles at Drayton, but The Prom gives him a chance to sink his teeth into the meaty role of uber-gay Barry Glickman and, channeling his inner Nathan Lane, he gives good account of himself.
The vivacious Jackie Mustakas is very good indeed as Angie and I especially enjoyed Eric Craig as the self-important Juilliard product who seems at the end of The Prom about to embark on a fulfilling career as a high school drama teacher.
Rebecca Poff skillfully avoids the trap of making the homophobic Mrs. Greene, head of the PTA, a cardboard villain, giving us instead a fully rounded and ultimately sympathetic human being, once again proving the adage "there are no small roles…"
The real standout in the company, however, is young Annika Tupper, as Emma. A recent graduate of Sheridan College's music theatre programme, she is blessed with a clear legit voice. Her self-assurance and stage presence belie her slim resume. She's someone to watch.
The Prom is by turns sincere, simplistic, saccharine, sentimental, and screamingly obvious. It's heart is firmly in the right place, of course, but there is an unmistakable air of preaching to the choir about the proceedings.
Since the show is a product of Broadway, crafted by Broadway veterans, it is not too surprising that The Prom lionizes and celebrates the irresistible glamour of show business and its practitioners even when it is savagely satirizing their shallowness.
It's also telling that in Mr Hawkin's song "We Look To You" he sings of how big stars like Dee Dee lift people like him out of their pathetic little lives if only for a moment. Those are the sentiments of jaded New Yorkers towards fly-over country, not those of decent folk like Mr. Hawkins.
Having left no nit unpicked, I should note that the show is also quite entertaining and there are more than enough virtues to help you ignore the flaws, if indeed you see any.
Pro Tip: Don't be tempted to watch the film adaptation on Netflix. It's pretty ghastly, despite hewing fairly close to the Broadway script. This material works far better in its natural habitat, the stage.
Footnote: Drayton's website offers the following warning:
"The story of The Prom champions concepts of identity, empathy, inclusivity, communication, support, and hope. As is the case with most meaningful theatre, the road to this better understanding of others' perspectives is paved with conflict. In this show, those themes include homophobia, mature language, micro-aggressions, anti-2SLGBTQIA+ religious implications, parental rejection, and verbal bullying. Our hope is that these themes lead to worthwhile discussions focused on the musical's inspirational themes and encourage us to apply the idea we all are worthy of belonging, unique and valuable."
It's certainly well-intentioned advice and, given the cultural divisions that still resonate around the acceptance of gay kids, probably wise. The homophobes among us, should they stumble into this production, certainly can't say they weren't warned.
But I couldn't help thinking how sad it is that this sort of thing is still deemed necessary.
(Image: Drayton Entertainment)
Don't miss another review. Follow OntarioStage on Twitter.
For a complete Index of Reviews, CLICK HERE