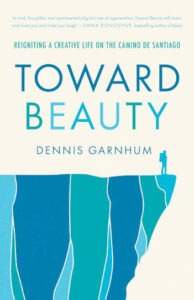 Toward Beauty Book Review
I've been a fan of Dennis Garnhum ever since I saw his masterful take on A Christmas Carol at the Grand Theatre in 2017. I even had a chance to chat with him briefly when he was workshopping Grow at Goodspeed in Connecticut.
So when I saw that he had a book called Toward Beauty coming out I was intrigued. I will admit that when I saw the tag line "Reigniting a creative life on the Camino de Santiago" I had some misgivings. "A bit self-indulgent, what?" I thought.
I needn't have worried.
Toward Beauty is a deft combination of travel narrative and confessional memoir that is beautifully written and artfully constructed. It packs an honest emotional wallop and it left me with an even deeper admiration for its author.
It seems that when the pandemic hit and closed the Grand, leaving the theatre in a morass of debt and even uncertainty as to its very existence, Garnhum experienced what he describes as a breakdown. He doubted his artistic vocation and his ability to keep going through these plague riddled times, especially since, as a white male, he suspected his days of leadership were numbered.
His response was inspired and, perhaps not incidentally, a bit theatrical. He would hike solo along the famed pilgrimage route, the Camino de Santiago in Spain. Not the easy, flat, and popular "Camino Frances" (the French Route), but the more difficult "Camino del Norte" (the Northern Way). The Camino del Norte he tells us comprises 830 winding and sometimes rugged kilometers from the French border near San Sebastián to Santiago de Compostela, the legendary burial place of James the Apostle. It's a grueling month-long hike, but on the plus side, the views are spectacular and there are some lovely beaches to traverse.
Since the Middle Ages, the camino has been a revered pilgrimage for Catholics intent on expiating their sins. In more modern times its rigors have become a sort of secular therapy for those at various points of crisis in their lives, people hoping to divine the next chapter, or simply to "find themselves." It was in this spirit that Garnhum set off.
As he walks the camino, sometimes alone, sometimes with new-found friends, Garnhum shares with us his thoughts. About theatre, the artist's life, his creative process, his Catholic upbringing, his coming out as a gay man, the trauma of being rejected cruelly by the wife of his revered high school drama teacher.
As the pilgrimage and Toward Beauty progresses, Garnhum keeps peeling away layers of this autobiographical onion until, little by slowly, we come to know him quite intimately. It's a brave undertaking on his part and it succeeds remarkably well.
It is probably no spoiler to reveal that he does, indeed, "find himself" and returns to London, Ontario, with his creative spark reignited. Otherwise, why write the book?
I was a bit disturbed by a veiled suggestion at the end of Toward Beauty that his artistic future might lead him away from theatre, perhaps to something that sounded a but like high-end event planning. I hope not. His work at the Grand is too important. As an American who has developed a deep admiration for Canada's theatre culture it was reassuring to read of his commitment to staying in Canada, resisting the lure of the artistic fleshpots of Broadway.
Toward the end of the book, I began thinking that perhaps I should follow in his footsteps. But then I remembered I am twenty-five years Garnhum's senior. (A quarter of a century; makes a boy think.)
I realized on more sober reflection that in reading Toward Beauty I had completed a sort of virtual camino, one which I walked in the company of a most agreeable and entertaining companion.
In Canada