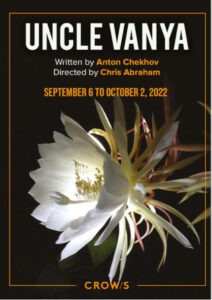 Uncle Vanya At Crow's Theatre
The astonishment of Artistic Director Chris Abraham's electrifying production of Anton Chekhov's Uncle Vanya at Toronto's Crow's Theatre begins with the set and lighting.
Co-designers of set and props Julie Fox and Josh Quinlan have transformed the Crow's capacious Guloien Theatre into one of the most impressive sets I've seen this year. A narrow band of seats on three sides aside, the entire space is used to transport us to the shabby country estate of Professor Alexandre Serebrakoff, or perhaps more accurately the estate of his late wife.
Imposing stone columns soar to the ceiling high overhead; only on returning from intermission did I realize they were wood and canvas set pieces. The seemingly vast stage area is completely filled with details of faded Russian country living, even in corners that, depending on where you are seated, you will have difficulty seeing. Books are piled haphazardly around and underneath tables and sofas, the flooring is bare or covered patchily with rugs, a metal pan stands ready should the roof leak. Then there is the lighting, the handiwork of Kimberly Purtell, that pierces the crepuscular and dusty atmosphere (the work of a fog machine, I'm guessing) to dramatic effect. This mis en scene has Dora Award written all over it.
So Uncle Vanya the play has a tough act to follow. Fortunately, Abraham and his magnificent cast are up to the challenge.
Ever since Constantin Stanislavsky, no less, appeared in the original production of Uncle Vanya at the Moscow Art Theatre in 1899, there have been differences of opinion (or heated arguments) over how to interpret Chekhov and bring his text to life. Comedy or tragedy? Tragicomedy, perhaps? Tragedy with occasional comic touches? Chekhov, for starters, was displeased by the shtickiness Stanlislavsky brought to the role of Astrov. The playwright advised (speaking of a production of The Seagull) "avoid theatricality. Try to be as simple as possible. Remember that they are all ordinary people." When Stanislavsky followed that suggestion, he was amazed at the result. "I do nothing and the public loves it," he is reputed to have said. It transformed his approach to acting.
In my experience, directors and actors have blithely ignored Chekhov's advice. Or perhaps it's simply that what passed as comedy in late nineteenth century Russia comes across as tragedy in the twentieth and twenty-first century West. Suffice it to say that this Uncle Vanya is not a laugh riot. Yes, there are a few moments that elicit a quiet laugh, but for the most part the estate is not a happy place.
The plot of Uncle Vanya revolves around the return of the august professor (Eric Peterson), now retired, to the country estate that has been underwriting his lifestyle in the big city. Those who manage the estate, the professor's homely daughter Sonya (Bahia Watson) and his dead wife's brother, Vanya (Tom Rooney), have for decades lived lives of quiet drudgery and gnawing frugality, sending every kopeck possible to the distant professor. Vanya, whose own literary ambitions were sidetracked in service to the professor he once idolized, has come to realize that the professor is an intellectual fraud whose prodigious output is destined for oblivion. To add insult to injury, Professor Alexandre has returned to the estate with a beautiful young wife, Yelena (Shannon Taylor), with whom Vanya is smitten.
Rounding out the household are Vanya's mother (dtaborah johnson), who is an ardent acolyte of the professor; the dutiful and caring family servant, Marina (Carolyn Fe); and the hanger-on Telegin (Anand Rajaram), nicknamed Waffles because of his pockmarked face. Astrov (Ali Kazmi), an idealistic and charismatic country doctor, is a frequent visitor and houseguest. His fervent environmental consciousness and efforts to retore the local forests seem oddly contemporary not to mention prescient.
In addition to Vanya's passion for Yelena, Chekhov stirred any number of soap-operatic elements into this assembly. Sonya is smitten with Astrov but agonizes over her plainness. Yelena, who married for love, now admits that she is not happy and she, too, has a bit of a thing for Astrov. Astrov is given to drinking too much. He is oblivious to Sonya's feelings for him, but like Vanya is attracted to Yelena. Vanya's frequent professions of love for Yelena are rebuffed and when he catches her kissing Astrov he spirals into a profound depression.
Things come to a head when the professor, bored to tears with country life, announces his plan to sell the estate and use the proceeds to finance not just life in the city, but a vacation home in Finland to boot. As to what will happen to those living on the estate, well he hasn't quite figured that out yet. The results are, shall we say, explosive and an example (I'm guessing here) of what passed for high comedy in Chekhov's time.
In Abraham's superlative Uncle Vanya all this is the source of deep melancholy and, yes, tragedy, as missed opportunities and harsh realities take their toll. The result is an embarrassment of theatrical riches in which virtually every performance is a tour de force.
Now that Christopher Plummer has decamped for the undiscovered country, it's a toss up whether Tom Rooney or Colm Feore is Canada's greatest living classical actor. Rooney once again stakes his claim to the title with his performance as Uncle Vanya. It is quite simply brilliant in every detail and I have always felt it an honour to watch him perform.
Ali Kazmi is magnetic as Astrov. It's easy to see why both Sonya and Yelena are drawn to him. In addition to being appropriately beautiful, Shannon Taylor brings a quiet simplicity to Yelena. Best of all, for my money, is Bahia Watson as Sonya. Her utterly naturalistic evocation of a young girl in love made her eventual rejection completely devastating and added tragic power to her role as the sole voice of hope in Uncle Vanya's closing moments.
Any Uncle Vanya you are likely to see will be an "adaptation" of one sort or another. This one is by Liisa Repo-Martell, in real life Chris Abraham's wife. She has adapted with a light hand but, as adapters are wont, has added some flourishes of her own. Some work better than others.
She has neatly disposed of Uncle Vanya's minor characters, but a dream sequence in which Vanya and Yelena execute a balletic dance didn't work for me. On the other hand, a supremely theatrical scene of late-night drinking and dancing with Astrov, Vanya, and Waffles, of which Chekhov would almost certainly have disapproved, was a terrific addition.
Mention must also be made of Ming Wong's costumes, which while perhaps not absolutely historically accurate suggest the period appropriately enough and that is more than most designers seem to be able to manage these days. Kimberly Purtell achieved some lovely chiaroscuro effects with her lighting and Thomas Ryder Payne's detailed sound design served as yet another character in this estimable ensemble.
This production of Uncle Vanya has received rapturous reviews from all of Canada's major critics, so it was depressing to see how many empty seats there were at the performance I attended. Don't miss it.
Uncle Vanya runs through October 2, 2022. For more information, visit the Crow's Theatre website.
Don't miss another review. Follow OntarioStage on Twitter.
For a complete Index of Reviews, CLICK HERE