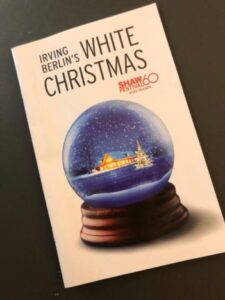 White Christmas at the Shaw Festival
Did someone walk into a staff meeting at the Shaw Festival and say, "Hey, here's an idea: What say we sink all our money into tap dancing lessons?" If so, the investment has paid off handsomely. Kate Hennig's tap-alicious production of Irving Berlin's White Christmas is a knockout and far and away the best musical I have ever seen in Niagara-on-the-Lake.
I have long felt that Shaw's musicals looked pretty wan compared to the more robust fare served up by the Stratford Festival. Where Stratford had Donna Feore's carefully nurtured dance corps, Shaw had "actors who move well." White Christmas has made me rethink my Stratford-centric biases.
I noticed from the otherwise uninformative cast bios that most of the dancers and a few of the principals in White Christmas are enjoying their first season in NOTL. Could Shaw be taking a page from Stratford's playbook? Could this be the beginning of a corps of accomplished dancers who will appear season after season and get better and better as they continue to work together? If so, it bodes well for future musicals at Shaw and has made me even more eager to see next season's Gypsy.
But I digress. This White Christmas is an adaptation of the 1954 Paramount Pictures film, helmed by Michael Curtiz and starring Bing Crosby, Danny Kaye, Rosemary Clooney, and Vera-Ellen. The adaptors, David Ives and Paul Blake, hew fairly close to the plot of the original, but have added more Berlin favorites ("Happy Holiday," "Let Yourself Go") while excising others that, shall we say, haven't aged well ("I'd Rather See A Minstrel Show").
It's 1954 and Bob Wallace (Jeff Irving) and Phil Davis (Kevin McLachlan) are old Army buddies from WWII who have gone on to become show-biz royalty. Betty Haynes (Alexis Gordon) and her sister Judy (Mary Antonini) are talented wannabes. Judy cons the boys into coming to the gin joint in which they are performing to scout their act. Sparks fly between Judy and Phil. Between Betty and Bob? Not so much.
As it happens, the girls are heading to Vermont to perform over the Christmas holidays at an inn. Phil, eager to pursue his new-found interest in Judy, fools Bob into boarding the northbound train rather than the one to Miami for which they hold tickets.
The inn, which is in dire financial straits, is owned by retired general Henry Waverly (David Alan Anderson), Bob and Phil's beloved commanding officer from their Army days.
What follows is a sort of Mickey-and-Judy "let's put on a show" scheme to rescue the general from his financial difficulties. Toss in a misunderstanding that threatens to sabotage the growing romantic vibes between Bob and Betty and we're off to the races. I don't think it requires any spoiler alert to reveal that all turns out well and that love triumphs.
White Christmas premiered in 2000 in St. Louis and, after a number of tours, reached Broadway in 2008. In somewhat predictable fashion, the uber-sophisticates in the New York critical establishment sniffed at this import from the provinces. I have a feeling the Shaw's audiences will not be so short-sighted.
This White Christmas is, in a word, smashing. It boasts a solid cast, especially the leading ladies. (Am I still allowed to use the word?) Alexis Gordon, who in addition to being a terrific singer has a growing reputation as a dramatic actor, simply radiates class as Betty. When Bob didn't immediately succumb to her manifest charms, I had to dial up my willful suspension of disbelief to eleven.
Even better is Shaw newcomer Mary Antonini as Judy. A beautiful woman with an infectious charm (and a damn fine dancer as well), she comes within a hair's breadth of stealing the show.
The guys hold their own against these two forces of nature. Kevin McLachlan has mastered an off-handed insouciance that makes the womanizing Phil utterly likable. He, too, is a good dancer and the Phil-Judy dance numbers really cook. Bob is the moral center of the show and Jeff Irving brings a sort of all-American solidity to the role. I only wished they had managed to mic him in a way that didn't make it look as if he had something terribly wrong with his forehead.
General Waverly and Martha Watson (Jenni Burke), the inn's Jill of all trades who carries a significant torch for him, are also impressive.
Under Hennig's taut direction even smaller roles stand out. Kristi Frank and Julia Juhas are wonderful as libidinous chorines. Drew Plummer, who made such an impression earlier in the season when he had to step into a major role in Damn Yankees, does wonders with the tiny role of Ezekiel.
Judith Bowden has created versatile sets that represent a wide variety of locations, from nightclubs, both seedy and chi-chi, to an overcrowded train to Vermont. But it is her costumes that are the real winners. She has a deadly accurate eye for mid-fifties fashion and my wife admired the tailoring on the slacks of chorus girls Frank and Juhas. I on the other hand, got a kick out of the Oxydol ("For Purity") boxes they wore for a commercial on the Ed Sullivan Show.
Lighting by Kevin Lamotte, music direction by Paul Sportelli, and the sound design of John Lott are efficient and unobtrusive, as they should be. For once, I wasn't blown out of my seat by over-aggressive mic'ing.
The real eye-opener, however, is the choreography. Allison Plamondon's work is light years ahead of what she produced for Damn Yankees, but then she has much better dancers to work with in White Christmas. It was a special joy to see not only so many tap dance numbers, but to see them so well executed.
"I Love A Piano" begins simply with Phil and Judy and then expands to include all the girls in the chorus, tapping up and down multiple levels. And designer Bowden contributed a set that made it all work beautifully.
For "Blue Skies," Plamondon conjured a long line of iterations of Bob, as if seen in a fun house mirror. Phil and Judy have a smashing duo in "The Best Things Happen While You're Dancing," backed by the entire company of dancers.
The guiding genius behind all this is the omni-talented Hennig, actor-director-playwright-former associate artistic director-teacher. I assume she had a hand in recruiting the dancers and bringing exceptional newcomers like Mary Antonini and Jenni Burke to Shaw. It was most assuredly she who marshaled all of the many elements in this production to create a spectacular and ultimately quite moving White Christmas.
Let the snooty New York critics dismiss White Christmas as sappy and sentimental, but by show's end I found my astigmatism acting up.
White Christmas continues at the Shaw Festival's Festival Theatre through December 23, 2022. For more information, visit the Shaw Festival's website.
Don't miss another review. Follow OntarioStage on Twitter.
For a complete Index of Reviews, CLICK HERE
---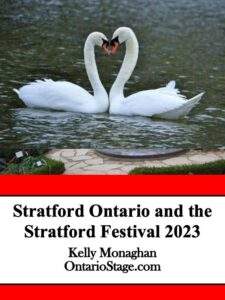 ---