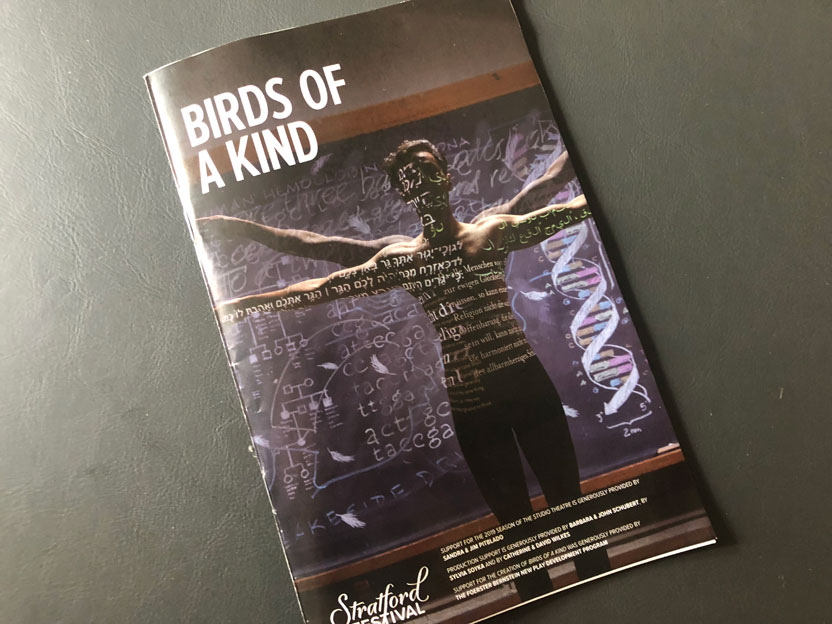 Birds of a Kind at the Stratford Festival
This season, the Stratford Festival's Studio Theatre is home to two plays set in the Holy Land, both of them dealing with issues if identity and religious tolerance. They also share most of the same actors, so seeing them both makes for an instructive exercise. Nathan the Wise was written in the eighteenth century and set during the Crusades, while Birds of a Kind is a 2017 play set in the troubled present. Nathan is the better play, but Birds is by far the better production.
Wajdi Mouawad's Birds of a Kind (translated from the French by Linda Gaboriau) is the result of a commission from Stratford's artistic director, Antoni Cimolino, who also directs this production. The play is inspired by Natalie Zemon Davis' book Trickster Travels about al-Hasan ibn Muhammad al-Wazzan, a sixteenth century Moroccan diplomat captured by Christian pirates who, impressed by his obvious erudition, presented him to Pope Leo X as a sort of trophy. He converted to Christianity and became known as Leo Africanus. He went on to write a number of scholarly works including what would become the standard work on Africa until the age of modern exploration. Eventually, he returned to the Maghreb and was lost to history.
Mouawad's play is not about al-Wazzan himself (although he appears as a dream character). Taking its inspiration from a tale told by al-Wazzan about a bird who is able to live both with its own kind and in the sea with the fishes, moving between the two realms at will, the play asks whether people who exist across a seemingly unbridgeable ethnic, religious, and political divide can coexist. Is it possible to move from one of these worlds to the other as easily as birds fly over walls built out of fear and hatred? Or to exist in both? The answer would seem to be no.
Eitan is a young man studying genetics in New York. His parents, Norah and David, live in Berlin. Norah, is a German Jew; David was born in Israel, came to Berlin as a teen, and now considers himself German. His grandfather, Etgar, is a Holocaust survivor who emigrated to Israel where he married Leah (whose origins are unclear). Wahida is a Moroccan student writing her PhD thesis on al-Wazzan. Eitan and Wahida meet cute in the library at Columbia University and fall in love. Eitan's parents, David and Norah, are less than enthused by this development (Wahida's parents are both dead). Eitan's grandfather Etgar, now estranged from his wife Leah, feels that love is love and is more supportive. After an explosive confrontation at a seder dinner, Eitan is convinced he can't be related to people like this and, in one of the play's least plausible devices, spirits away the silverware to do a little DNA analysis.
The tests show that while Eitan is indeed David and Norah's son, Etgar is not David's father. With Wahida in tow, Eitan travels to Israel to confront his grandmother and unravel the mystery. Thanks to a terrorist bombing that sends Eitan, comatose, to the hospital, the entire family is reunited in Jerusalem. Wahida, meanwhile, is confronted with the unpleasant reality of being a Muslim in an uneasy Israel. Eventually, the mystery is solved with devastating consequences.
Mouawad has created a gallery of wonderfully vivid characters, each with their own distinct voice, and director Cimolino has elicited terrific performances from all of them. As noted, most of the cast members also appear in Nathan the Wise, but to much less effect. What a difference a great director can make!
Much of the play is given to passionate speechifying by the main characters and while the writing is very good indeed, almost poetic in places, the play is often in danger of collapsing under the weight of its own earnestness. One of Mouawad's more successful conceits is to have characters speak in Hebrew, German, and Arabic at times; it might seem a bit arch, but thanks to projected subtitles it works beautifully.
Birds of a Kind may prove to be one of the more controversial productions Stratford has ever mounted. Mouawad does not paint a particularly flattering portrait of modern day Israel. One character goes into an extended anti-Arab rant that is chilling in its resemblance to both Nazi rhetoric and the bloviations of present-day "nationalists." While the politics of the play, such as they are, reflect the consensus of what is loosely considered "the left" in the West, I can see that doctrinaire Zionists, who feel that any criticism of Israel is tantamount to antisemitism, might take offense. Time will tell.
What is less in dispute is the quality of the physical production that Cimolino has given the play. It is the best I can remember seeing in The Studio, a space that imposes definite restrictions on designers. Francesca Callow's ingenious set, which cleverly includes a perfect place on which to project the translations of the play's many languages, solves all the problems the space creates, and the simple device that opens the play is magical. Michael Walton's lighting, Adam Harendorf's sound design, and Jamie Nesbitt's projections work together to create one stunning effect after another.
I hesitate to single out individual actors because they are all so good, but I was especially impressed by Sarah Orenstein's fiery Norah, Alon Nashman's tortured David, and Jakob Ehman's effusive Eitan. I hope the Festival will find leading roles for Orenstein in future seasons and that both Nashman and Ehman will be invited back.
Birds of a Kind is not easy theatre — it runs just over three hours for starters — but it will reward the thoughtful theatregoer, especially if seen together with Nathan the Wise. If only Stratford had a good Middle Eastern restaurant where we could gather over meze and mint tea to discuss it all.
Birds of a Kind continues in repertory at the Stratford Festival through October 13, 2019.
Studio Theatre
Stratford Festival
(800) 567-1600
stratfordfestival.ca
More Reviews
To access the complete archive of reviews listed alphabetically CLICK HERE.