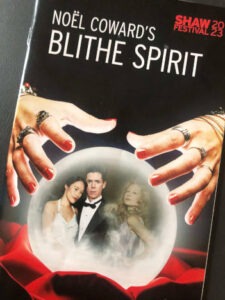 Blithe Spirit At The Shaw Festival
Noël Coward occupies a small but beloved niche in twentieth century theatre and his Blithe Spirit from 1941 is perhaps the most popular of his comedies. Director Mike Payette is giving it an enjoyable, if occasionally puzzling, revival at the Shaw Festival's Festival Theatre.
The plot is no doubt too familiar to warrant an extended precis here. Suffice it to say that mystery writer Charles Condomine, hoping to pick up some jargon and "tricks of the trade" to use in his new novel, invites local spiritualist Madame Arcati to his home for a séance.
Madame Arcati seems to have had only middling success in reaching "the other side" in her previous outings, but on this fateful night she succeeds in conjuring the shade of Charles' first wife, Elvira. This feat is lost on everyone but Charles who is the only one capable of seeing or hearing her.
This new menage a trois in the Condomine household proves understandably distressing to Charles' second wife, Ruth, who hears only Charles' increasingly strident remarks to Elvira, thinking they are directed at her.
Eventually, after plot complications involving copious spoilers which I am loath to reveal, Madame Arcati is summoned again and all is put to rights. Or is it?
I don't think I'm taking too much of a risk in saying that Blithe Spirit's Madame Arcati is one of the greatest comic creations in theatre history. The role is a gift to any actress lucky enough to land the role.
Deborah Hay, always a joy to watch on stage, does her up to a tee. A gifted physical comedienne, she twitches and jerks most amusingly in her histrionic attempts to connect with the spirit world. She also brings a touching note of pathos to the role, a welcome addition which I don't recall seeing in other Arcatis.
Damien Atkins as Charles strikes me as ideal casting for the prototypical Coward hero – not too handsome, not too plain, and utterly at home with the soignee style Coward's comedies of manner demand. He does a masterful job of moving from comfortable smugness to an advanced state of discombobulation. I hope someday I get a chance to see him in Present Laughter and Private Lives. For now, his turn in Blithe Spirit will have to suffice.
The willowy Julia Course makes the ethereal Elvira the perfect blithe spirit, while Donna Soares is the perfect counterpart as the down to earth Ruth.
Of the rest of the solid cast I would single out Katherine Gauthier, who made such an impression as the lead in last season's Just To Get Married. Here she scores in the minor role of Edith the maid with a crucial secret.
The puzzling aspect of the production comes courtesy of James Lavoie who handled sets and costumes. The Condomine's living room is massive, the fireplace surmounted by an enormous and enigmatic painting that changes as the play progresses. Why remained a mystery to me. No one in the cast seemed to notice.
The costumes in this Blithe Spirit were the real head scratcher. The women's costumes struck me as just right, especially Elvira's otherworldly nightgown and Madame Arcati's sui generis outfits.
The men's costumes are downright bizarre, including formal wear in garish iridescent colours and patterns made of some stiffish material that didn't hang well and had a tendency to bunch up at the crotch. Even when the outfits were a bit more "normal," the color palette was ghastly. Lavoie has done a fair amount of work with Cirque du Soleil so perhaps that explains it.
On the other hand, the lighting by Kevin Lamotte and the eerie original music and sound design by Troy Slocum are just what the play calls for.
It has become fashionable of late to sneer at Coward's somewhat derriere garde stance in the perennial battle of the sexes, but if you come to Blithe Spirit looking for light comedy and not trenchant commentary on the current state of gender politics, you should pass a perfectly delightful evening.
Blithe Spirit continues at the Festival Theatre through October 8, 2023. For more information and to purchase tickets, visit the Shaw Festival website.