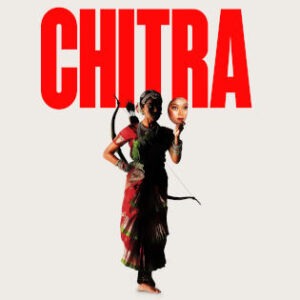 (Image: Shaw Festival)
Chitra At The Shaw Festival
Indian poet and playwright Rabindranath Tagore won the Nobel Prize in Literature in 1913, the same year his own translation of his one-act play Chitra was written. It is being revived in a charming production directed by Kimberley Rampersad at the Shaw Festival's Royal George Theatre.
Chitra tells the meet-cute tale of the warrior princess Chitrangada and the great warrior Arjuna of the Panda dynasty, an encounter not recorded in the great Sanskrit epic, The Mahabharata, in which both appear. Chitra (Gabriella Sundar Singh) was raised as a boy by her son-less father and has grown up muscular and plain. Smitten with love for the warrior Arjuna (Andrew Lawrie), she pleads to the gods to make her beautiful so she might draw the attention of Arjuna, who has taken a sacred vow of twelve years of celibacy. The god of Love (Taurian Teelucksingh) and the god of Springtime (Sanjay Talwar) grant her wish and transform her into a creature of ethereal beauty.
When he lays eyes on her, Arjuna instantly abjures his vow. (Men!) Chitra is appalled. This is clearly not the high-minded exemplar she thought he was. The gods have another idea: live with him in carnal bliss for a year. After that, he won't care what you look like. (Gods!)
The plan works and Arjuna comes to realize that beauty is only one part of the equation. When Chitra reveals herself as the warrior princess she is, Arjuna can only say "Beloved, my life is full."
Full, indeed! The Mahabharata tells us he had four wives. But that's another story. Tagore's tale is more idealized and heart-warming.
Director Rampersad, who also plays the voluptuous Lola in Damn Yankees, has found ingenious ways to stage what is, truth be told, a very talky play. Utilizing a simple but elegant, multi-level set by Anahita Dehbonehie, with a quartet of mostly silent dancers, identified in the programme as the "Corps," forming a sort of chorus, she keeps the action flowing. The Corps evokes ancient Indian dance forms without attempting to recreate them. Dehbonehie's costumes likewise pay a debt to India, as does the original music and sound design of Ryan and Darryn deSouza. Chris Malkowski's lighting completes a harmonious picture.
Much depends on the central performances and they are delightful. Andrew Lawrie seems to have bulked up since I last saw him at Shaw and with his dark beard and mellow voice he makes a commanding ancient Indian warrior. Gabriella Sundar Singh, who is a delightful Cecily in this season's The Importance of Being Earnest, is impressive in the title role. Rampersad has wisely chosen not to attempt Chitra's transformation as described in the text. The petite Sundar Singh manages to convince us that she is a strapping warrior princess who changes from a plain Jane into a ravishingly beautiful seductress and back again using a special effect called acting.
Don't miss another review. Follow OntarioStage on Twitter.