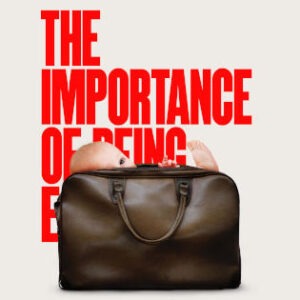 (Image: Shaw Festival)
The Importance of Being Earnest At The Shaw Festival
Oscar Wilde's The Importance of Being Earnest, often described (and with some justification) as the most perfect comedy ever written, is receiving a somewhat lopsided revival at the Shaw Festival's Festival Theatre under the direction of artistic director, Tim Carroll.
I will dispense with a summary of the plot. For one thing, it is well known to most of you, but I also came to realize that there were those in the audience with whom I saw it who had no idea what was coming next. If you are among that latter group, I won't spoil it for you. Go see it. You'll have fun.
There is much to be enjoyed in Carroll's production, most of it involving the cast. The Importance of Being Earnest has some of the best female roles in the canon of British comedy, so let's begin with the ladies. Julia Course as Gwendolen Fairfax is an unalloyed delight from beginning to end. Beneath her prim and proper Victorian veneer, she lets us see the raging hormones that have drawn her inexorably to one Earnest Worthing, a seemingly eligible bachelor who, alas, has some unfortunate baggage in his family history. Hers is a masterful performance. The pert and petite Gabriella Sundar Singh serves up a spunky Cecily Cardew, Earnest's ward. She could very well be Earnest's "little aunt Cecily" and director Carroll uses the disparity in height between her and Gwendolyn to good comic effect.
The protean Kate Hennig is Lady Bracknell, Gwendolen's stern mother. She wisely plays it straight, with few extraneous flourishes. Any actress who tries to out-Evans Dame Edith Evans is on a fool's errand. (Evans' performance in the 1952 film version is still, for me, the definitive Lady Bracknell.) Hennig, presumably with Carroll's agreement, wisely chooses to emphasize Lady Bracknell's focus on the role of finances in the delicate matter of vetting suitors to your daughter's hand. The choice pays off handsomely in her prolonged — and silent — reaction to the discovery that, despite a seeming lack of pedigree, Mr. Worthing is a damn fine catch.
I found Hennig's performance especially refreshing because the last time I saw The Importance of Being Earnest, Brian Bedford was giving a supremely mannered rendition of the part at the Stratford Festival. What is it that draws older male stars to this role? Perhaps it's the thrill of dressing up as a woman without the additional pressure of having to look beautiful?
There is a minor misstep in the casting of Miss Prism, whose Act III revelation is key to the plot. Although she plays it well, Jacqueline Thair is far too young and attractive for the role, but such are the challenges of casting from within the ranks of a repertory company.
As Earnest, Martin Happer, who also plays two parts in Too True To Be Good this season, is properly buttoned down and, well, earnest; just what Wilde called for. It would be difficult to find a better Lane, Algernon's butler, than Neil Barclay, even for ready money, and Ric Reid, as the Reverend Chasuble, is simply marvelous. It's a joy to watch an old pro squeeze every bit of laughter out of a small role.
Gillian Gallow has provided handsome sets and director Carroll makes the most of the comic possibilities provided by her maze of hedges in the second act garden scene. Christina Poddubiuk's costumes are both period appropriate and witty without succumbing to the temptation of being over the top.
The lopsidedness in this production of The Importance of Being Earnest comes from the portrayal of Algernon Moncrieff, Earnest's snarky friend, a seemingly confirmed bachelor and, not so incidentally, nephew to Lady Bracknell. Taking a cue from Algie's voracious appetite, Carroll has cast a chubby actor in the role. It's an interesting choice. Unfortunately, Carroll has directed Peter Fernandes to play him with a frowning intensity and a frequent air of befuddled confusion when a sly smile and a twinkle in the eye would be more appropriate.
I was puzzled by one bit of stage business. When Lady Bracknell has seemingly put an end to Earnest's matrimonial plans, he collapses on a chaise and Algernon has been directed to lie on his back and tenderly caress his back and arm. This whiff of homoeroticism is far from Wilde's intention for the character, his personal proclivities to the contrary notwithstanding.
If you can put these reservations to one side — and I confess I had some trouble doing so — this is as respectable a rendition of The Importance of Being Earnest as you are likely to see. When I saw it, the laughter built steadily as the play progressed and the audience seemed to be enjoying a genuinely good time.
Don't miss another review. Follow OntarioStage on Twitter.