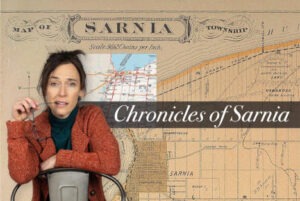 Chronicles Of Sarnia At The Blyth Festival
The Blyth Festival has another comedy hit on its hands with the world premiere of Chronicles of Sarnia by Sarnia native Matt Murray. Murray also wrote Myth of the Ostrich, which Here For Now Theatre produced earlier this season. He clearly has a gift for intricately plotted, character driven comedies that deliver home truths along with abundant belly laughs.
When you add in Stratford's Much Ado About Nothing, Shaw's On The Razzle, and Blyth's own Liars at a Funeral, it's been a banner year for comedy in southwestern Ontario.
Chronicles Of Sarnia tells the tale of Erin, a high school history teacher close to retirement, who has decided that what Sarnia needs now is a 100-year time capsule so that children of the future can learn about the lives of present day Sarnians.
(For my American readers I should note that Sarnia is a town on the St. Clair River, which forms Ontario's western boundary with Michigan. I should probably also mention that their ignorance of Sarnia's existence will in no way impede their ability to enjoy the show.)
Chronicles of Sarnia takes place in a freezing church basement where Erin (Severn Thompson) has called a meeting on a snowy winter's night to gin up enthusiasm for her time capsule by allowing the people of the town to participate in deciding what should go into the capsule.
She has dragged along her long-suffering and none-too-willing husband, Rick (Murray Furrow), who would much rather be at home watching a hockey match in Toronto.
As it turns out, enthusiasm for Erin's project is not as widespread as she imagined. Just two people show up. Marcus (Mark Crawford), who has returned to Sarnia after an extended stint in Toronto, is there because his mother feels it will be a good way for him to meet people. Clair (Amy Keating), a young bartender, is there at the behest of her parole officer; she needs to get her GOSO (Get Out, Stay Out) form signed to prove that she is getting with the programme. Much to Erin's annoyance, Owen (Sam Malkin), the church's elderly janitor wanders in from time to time.
Erin decides to soldier on but things don't go well and as the meeting falls apart, tensions rise and hitherto well kept secrets slip out.
Murray's devilishly clever plot is difficult to summarize in a few sentences. Besides, doing so would spoil much of the fun of seeing the show. I will simply say that thanks to the raging storm outside, these five people are forced to stay in the freezing basement overnight — in the dark because Marcus blows a fuse when he tries to charge up his cell phone.
Chronicles of Sarnia is not all laughs. It takes a serious turn in the second act when we learn more about the relationship between Erin and Rick than either of them wanted anyone to know, including each other.
It's the sort of plot development that can spell disaster in the hands of a less accomplished playwright, but Murray handles it beautifully. He has crafted a beautiful speech for Marcus, the therapist manqué, that earned a fulsome round of applause at the performance I saw.
Other uncomfortable truths spill out, but Murray keeps the comedy on an even keel. There are no canned one-liners or unearned laughs in Chronicles of Sarnia and, as he did in Myth of the Ostrich, Murray has devised a last minute sight gag that ends the show in a burst of laughter.
In addition to Murray's clever script, much of the credit for the success of Chronicles of Sarnia must go to veteran director Miles Potter, a longtime fixture at Blyth and the Stratford Festival. He has assembled a pitch perfect cast for the occasion.
Every member of the company is excellent, but I was especially taken by Amy Keating, perfectly cast as the tough but tender Clair, and Mark Crawford as the therapist who has been unlucky in love but who is finding himself again.
Severn Thompson, who directed two of my favorite shows at Blyth, gives a terrific performance as the brittle Erin and Murray Furrow is quietly touching as her husband. Sam Malkin handles the small role of Owen with aplomb.
Sets and lighting (Steve Lucas) and costumes (Laura Delchiaro) are just what's called for. Sean Downing has contributed an understated sound design.
Once again, Blyth has created a piece of theatre that entertains and, yes, has a "message," while staying true to its mandate to produce work that speaks to the lived experiences of the community it serves.
I hope Chronicles of Sarnia has a robust afterlife. It deserves one.
Chronicles of Sarnia continues at the Blyth Festival through August 18, 2023. For more information and to purchase tickets visit the Blyth Festival website.
(image: Blyth Festival)