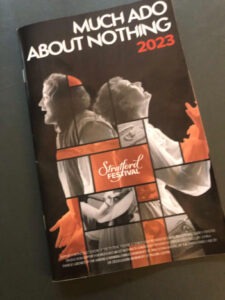 Much Ado About Nothing At The Stratford Festival
After the major disappointment of this season's King Lear, Much Ado About Nothing at the Stratford Festival's Festival Theatre comes as a relief. Under the expert guidance of director Chris Abraham, this Much Ado proves that the Festival is still capable of mounting world-class productions of William Shakespeare that show reverence for the text (well more or less) and remain true to the Bard's intent.
Whether that will continue to be the case is an open question for now. But why be gloomy? This Much Ado is occasion for joy.
Much Ado may be the ur-rom-com, although I dare say Menander may have beaten Shakespeare to it. The age-old comic device of two people who loathe the sight of each other and wind up happily married has served playwrights and, later, screenwriters very well indeed since Much Ado About Nothing premiered in the waning years of the sixteenth century.
The non-lovers in Much Ado About Nothing are Beatrice (Maev Beaty) and Benedick (Graham Abbey), two high-born Sicilians who grace the estate of Leonato (Patrick McManus), governor of Messina. All's well until Don Pedro (André Sills), Prince of Aragon, fresh from a successful military campaign, accepts Leonato's offer of hospitality.
Claudio (Austin Eckert), one of Don Pedro's entourage, falls madly in love with Hero (Allison Edwards-Crewe), Leonato's daughter and sole heir. They are quickly betrothed. But Don Pedro has an illegitimate (and evil) brother, Don John (Michael Blake) who is out for revenge. (See also, King Lear)
Don John enlists Borachio (Jakob Ehman) and Conrade (Cyrus Lane) to smear Hero with a false charge of fornication on the eve of the wedding. Sadly, the plot succeeds and Claudio spurns Hero at the altar.
While that plot line is being set in motion, Leonato and his brother Antonio (Anthony Santiago), prank Benedick into believing Beatrice is in love with him at the same time that Hero and her attendants are pranking Beatrice into believing that Benedick carries a similar torch. Hilarity ensues.
Beatrice and Benedick are among Shakespeare's most beloved characters and the scenes between them, as rendered superbly by Beaty and Abbey, show why. Abbey is sublimely funny as the newly besotted Benedick and Beaty is every bit his equal as the flummoxed Beatrice.
Both prove to be gifted physical comedians, despite some grumbling when the casting was announced that they are a tad too old for the parts. To my admittedly ancient eye a bit of age on the two characters deepens the humour. Their performances easily top those of their predecessors in the Festival's 2012 production of Much Ado, Deborah Hay and Ben Carlson, who were similarly long in the tooth.
The plot against Hero unravels thanks to a clever ruse whereby Hero is supposed to have died of shame when Claudio defames her and the crime-busting acumen of Messina's finest, who apprehend Borachio and Conrade.
The malaprop-prone constable, Dogberry, and the bumbling members of his watch are one of those bits of Shakespearean comedy that many directors and casts find almost impossible to carry off. Not so in this Much Ado! Josue Laboucane is a riot as Dogberry and the other members of his team make their dialog as crystal clear and the jokes just as funny as any Saturday Night Live sketch. Abraham's firm hand on the directorial tiller is much in evidence.
With the exception of some minor characters, whose lapses are relatively easy to overlook, the rest of the cast is generally solid, with a few standing out. Patrick McManus is a smashing Leonato, volcanic in his feigned rage over the supposed death of Hero. André Sills is, as always, solid as Don Pedro, while Michael Blake is suitably slimy as his nasty brother.
The scene in which Claudio and Hero are reconciled is a difficult one for modern audiences to swallow, even with the assist of additional dialog for Hero provided by Erin Shields. Allison Edwards-Crewe and Austin Eckert do what they can with it, but for my money they couldn't match Bethany Jillard and Tyrone Savage from the 2012 Much Ado.
As is often the case in Stratford Festival productions, this Much Ado is graced by splendid performances in minor roles by Festival veterans who have played major roles in other shows. So a tip of the "No Small Roles" hat to Gordon Patrick White as Friar Francis, Rylan Wilkie as Balthasar, and John Kirkpatrick as Verges.
The most fervent praise must be reserved for Chris Abraham. He is a master of the Festival Theatre's thrust stage and he uses every square millimeter of it, including the aisles, as he choreographs a large cast through a kaleidoscopic series of parties, brawls, weddings, and chases. The culminating festivities, choreographed by Adrienne Gould, make for a splendid curtain call.
More important, he makes the effort to understand the playwright's intent and, while he may give a production his own gloss on the text, the text itself is allowed to speak loud and clear. This is the hallmark of every truly great Shakespeare production.
The delightful set by Julie Fox, including a huge tree, has given Abraham lots to work with and he takes good advantage of the opportunities. Her costumes are even better. The setting is vaguely Sicilian and the era somewhat indeterminate but definitely the past. Most important, the costumes are all of a piece, the color palette impeccable, creating an utterly believable Messinian milieu.
The lighting by Arun Srinivasan is masterful. Even when actors are hiding in the shadows to eavesdrop on a scene, a well placed bit of lighting equipment picks them out.
The composer and sound designer Thomas Ryder Payne has done his usual excellent job. Benedick's stab at rehearsing a serenade is one of Much Ado's many comic highlights.
Erin Shields, a playwright whose deft adaptation of Paradise Lost was a hit for the Festival in 2018, has also provided a prologue to Much Ado for Beatrice to deliver. It is fun, and funny, and feminist, but it ain't Shakespeare, as many in the audience will assume. It would have made a great programme note.
Much Ado About Nothing gives us a lot to chew over, including what Shields feels is "the negation or misrepresentation of women in classical texts." For most of us run-of-the-mill Shakespeare fans, what we'll take away are the delicious performances of Abbey and Beaty.
I, for one, will be back again for a second helping. Maybe two.
Much Ado About Nothing continues at the Festival Theatre through October 27, 2023. For more information and to purchase tickets visit the Stratford Festival website.
Don't miss another review. Follow OntarioStage on Twitter.
OR, if you've had enough of Elon Musk, simply subscribe to OntarioStage in your favorite feed reader!
For a complete Index of Reviews, CLICK HERE