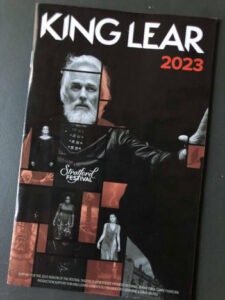 King Lear At The Stratford Festival
Where's Geoffrey Tennant when you need him? I really, really wanted to like the Stratford Festival's King Lear by William Shakespeare currently playing at the Festival Theatre and I strove mightily to do so.
But try as I might I couldn't get past Kimberly Rampersad's inept direction and the inexplicable choices she made in every creative department. Rampersad did an excellent job with Serving Elizabeth at Stratford and Man and Superman at Shaw, so her failing here is doubly disappointing.
Let's start with Michelle Bohn's costumes which are all over the stylistic map and vary from the quite stylish to the just plain ghastly. Goneril (Shannon Taylor) is given an array of chic outfits, and she wears them well. Regan (Déjah Dixon-Green) has been given costumes that are uniformly ugly and she seems uncomfortable in every one of them.
The men's costumes don't fare much better. It's as if Rampersad had her actors go into the Festival's vast costume warehouse and pick out stuff more or less at random.
The lighting by Chris Malkowski seemed a random patchwork and Rampersad had her actors wandering from light to shadow to light again.
The drab grey set by Judith Bowden was a mystery to me. A center column in the middle of the stage seemed to serve no purpose other than to prevent members of the audience from seeing some of the actors. Then it fell over in the second act to enable an awkward entrance for Lear. The blinding slivers of light that accented the set's moving panels didn't add much either, except perhaps to serve as lightning.
There is an art to staging a large-cast show on the Festival stage, one that has been mastered by old pros like artistic director Antoni Cimolino and frequent guest director Chris Abraham. Rampersad seemingly has no clue how the stage works and apparently received no helpful hints from more experienced hands.
All too frequently an important character would deliver an important speech with his or her back to the audience. I found it maddening.
Worst of all, Rampersad doesn't seem to have done much to help her actors shape their performances. Excellent Stratford veterans seem to have been left to their own devices. Those with less experience seem to have been left to sink or swim and, alas, they sink.
She seems to have actors go for laughs and, indeed, there are moments that lend themselves to a lighter note. But at some point that tendency should be reined in. The closing scenes should rip out hearts out, not elicit the chuckles they get in this production.
There are, however, some glimmers of a good production here, like the fine china cup that miraculously survives carpet bombing. David W. Keeley makes for a solid Kent and Gordon Patrick White's Fool was a highlight. I especially liked the indigenous echoes in his costume.
And what of Paul Gross as King Lear? Gross has a modest following in the United States thanks to Due South and Slings and Arrows, but in Canada he is a beloved icon. His return to the Festival (he played Hamlet in 2000) was eagerly anticipated and my guess is that the rapturous reviews this production has received reflect the love his fellow countrymen have for him.
I, too, am a Paul Gross fan and there were moments in which I saw indications that Gross could have been a towering and truly heart-rending King Lear. Alas, it just doesn't work.
His good looks (he's still incredibly handsome as a white-haired, white-bearded 64-year-old) conspire against him. When Lear is mad and feeble, Gross still looks fit and sexy. Makeup along with wigs and costume changes can address that problem, but apparently no one thought about it.
Far more damning, Gross gives us a light-weight Lear. He seems to be constantly courting a laugh. Whether that was his choice or Rampersad's is lost in the privacy of the rehearsal room. Either way it was a mistake.
He is amusingly manic in the opening scene, which could be seen as a foreshadowing of his madness. This seems to set the tone for further, play-it-for-laughs line readings by others in the cast, as in many of Edmund's speeches.
If only, as the play proceeded, the laughter began to catch in our throats and then disappeared altogether.
Perhaps the Festival could have brought Geoffrey Tennant* out of retirement or, failing that, enlisted the services of a bona fide master Shakespearean director like Antoni Cimolino, who Lear-like seems to have surrendered his kingdom to less competent stewards.
King Lear continues at the Festival Theatre through October 29, 2023. For more information or to purchase tickets visit the Stratford Festival website.
*If you didn't get the Geoffrey Tennant references, do yourself a favor and click here.
Don't miss another review. Follow OntarioStage on Twitter.
For a complete Index of Reviews, CLICK HERE