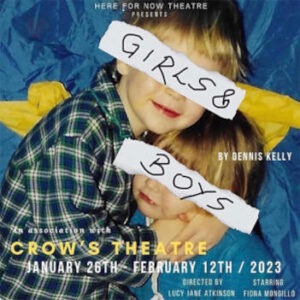 Girls & Boys Moves To Crow's Theatre
In my review of Girls & Boys, presented by Here For Now Theatre last summer in Stratford, I fretted that there was precious little time left in its short run to allow those who stumbled on my review to see it – and it richly deserved to be seen!
Fortunately, Crow's Theatre in Toronto has come to the rescue.
Girls & Boys, Dennis Kelly's heart-rending monologue, will be remounted in the Crow's Guloien Theatre from January 26 to February, 2023. Once again, Fiona Mongillo will star under the direction of Lucy Jane Atkinson.
Mongillo got my nod as Best Actress in a Play in the 2022 OntarioStage Awards. I hope this remounting of Girls & Boys will garner her greater prominence in the Toronto theatre world.
If you missed it in Stratford, by all means grab this all-too-brief chance to see Girls & Boys in Toronto.
For more information and to purchase tickets, visit the Crow's Theatre website.
Don't miss another review. Follow OntarioStage on Twitter.
For a complete Index of Reviews, CLICK HERE