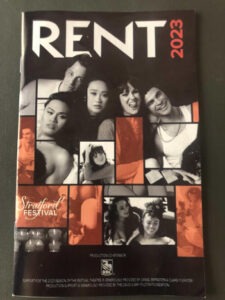 Rent At The Stratford Festival
The Stratford Festival is trying to attract a younger audience and they seem to be succeeding, at least for their full-throttle production of the musical Rent. The packed houses at the Festival Theatre are reminiscent of the "youthquake" Froghammer produced for New Burbage in season two of Slings and Arrows.*
Rent, for those who are not tuned into the popular zeitgeist, is Jonathan Larson's updating of Puccini's La Bohème, transported to New York's Alphabet City during the years of the AIDS plague. It took New York by storm when it debuted in 1996, won the Pulitzer, the Tony, and a passel of other awards, and ran for 12 years.
Tragically, Larson died, far too young, at 35, the day before the first Off-Broadway preview of Rent. He never knew of his greatest success and the immortality it conferred upon him.
Though much has been changed from Puccini's original, much remains – here is a colorful mix of dirt poor, struggling artists, living in squalor, malnourished and in some cases dying, yet somehow managing to have enough energy to sing at great length at the top of their lungs.
I will confess that I found Larson's music, with a few exceptions, uninteresting. When you hear lines like "Who do you think you are? / Leaving me alone with my guitar" you know you are not in the presence of Stephen Sondheim. As to the book, you'd have to have a heart of stone not to at least giggle during Mimi's non-death scene.
These are opinions that were shared by approximately no one else in the predominantly youthful audience with whom I saw the show. Many of them hadn't been born when Rent first opened, but they greeted every character as if they were favorite pop stars. They cheered and whooped after almost every number. It says something about the staying power of this material after a quarter of a century.
I can only assume that these young folks have either seen numerous productions of Rent (like the cult that follows the Rocky Horror Picture Show ), or have screened the 2005 film version again and again, or have the cast album on autorepeat. And they clearly love it.
Despite my personal feelings about the material, I have to admire Larson's operatic ambitions, which are perhaps not surprising given the source material. Larson is musically astute and draws on an eclectic array of musical styles, from rap to tango. Puccini buffs may even notice subtle references to the original (Che gelida manina anyone?).
Larson has eschewed the "book musical" structure to create something much more akin to opera. There is relatively little spoken dialog in Rent and a fair amount of rock-inflected recitative. Clever touches like a quartet of voices leaving simultaneous voice mail messages are straight out of the opera composer's playbook.
Another aspect of Rent that reminded me of the world of high opera, although it was almost certainly not intentional, was that in casting the show director Thom Allison seems to have chosen vocal quality over finding performers who looked just right for their roles.
Indeed there are some stunning rock voices in the cast – Andrea Macasaet, Erica Peck, Masini McDermott, Lee Siegel, and Kolton Stewart, many of whom are making their Stratford debuts. Then of course there is Robert Markus, a longtime vocal star at the Festival, who made such an impression as Little Mary Sunshine in last season's Chicago.
There are a few truly remarkable moments in the show. Lee Siegel's solo lament for Angel (Nestor Lozano Jr.), the doomed drag queen, brings down the house and the staging of Angel's demise, which is preceded by an ecstatically erotic dream sequence, is stunning.
Likewise, the unfolding of an immense, Keith-Haring-framed AIDS quilt at show's end brings a lump to the throat.
Other bits in Rent don't work as well. The depiction of "New York's Finest" as supposedly terrifying thugs in Darth Vader-like helmets was simply ludicrous.
Choreographer Marc Kimelman has kept the seventeen-member cast moving and has created the occasionally arresting stage picture, but the movement seldom coalesces into anything resembling a production number. That was no doubt intentional, but I couldn't help feeling an opportunity was missed.
Set designer Brandon Kleiman does a serviceable job of suggesting the Lower East Side of the late 80s and early 90s, but some of Ming Wong's costumes struck me as lacking verisimilitude.
Rent's Mimi is supposed to be a hyper-sexualized dancer in an S&M sex club, but some of the teenage girls in the audience were sporting outfits that were far more suggestive and revealing. This sort of disconnect between feminine modesty on stage and the pulchritudinous display of flesh on our city streets is becoming far more common; I noticed a similar phenomenon at the Shaw Festival's Gypsy.
Best of all, on the design side, was Michael Walton's kinetic lighting that at times turned the entire Festival Theatre into a sea of lights. As usual, music director Franklin Brasz conducted a very loud score with authority. (Joshua D. Reid handled the sound design.)
A sign in the lobby warns that the show contains "partial nudity." I guess that was true enough although it unfortunately did not involve the actor I would have preferred to see partially naked.
For those of us who have lived long enough, Rent summons inevitable recollections of Hair, the so-called "tribal love-rock musical" from 1967, which by the way featured total, full-frontal, albeit fleeting and dimly lit nudity.
Both Hair and Rent serve as markers of and tributes to an American generation of young people seeking freedom, liberation, and self-expression while each facing its own existential crisis. Of course, back in the 60s you could always dodge the draft. Or flee to Canada! But for the youth of the 80s, especially the gay youth of the 80s, there was no escape from AIDS.
Rent continues at the Festival Theatre though October 28, 2023, unless it gets extended, which given the early response may be a possibility. For further information and to purchase tickets, visit the Stratford Festival website.
* If you don't get the Froghammer reference do yourself a favor and click here.
Don't miss another review. Follow OntarioStage on Twitter.
For a complete Index of Reviews, CLICK HERE