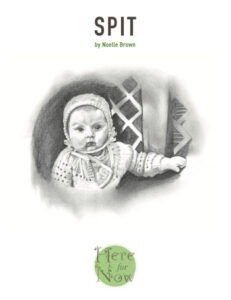 (Image: Here For Now Theatre)
Spit at Here For Now Theatre
Here For Now Theatre continues its admirable run of plays by and about women with Irish playwright Noelle Brown's brief (just an hour) but powerful Spit, which with admirable economy lays bare the shame of Ireland's infamous Mother and Baby Homes.
Sisters Jessica (Siobhan O'Malley) and Nicole (Seána O'Hanlon) are mourning the death of their mother when they discover some unsettling emails on their Mam's laptop. It seems that one Alannah (Fiona Mongillo), a Canadian adoptee, has been reaching out to their mother claiming to be the daughter she gave up for adoption.
Alanna, having exhausted all other avenues in the search for her birth mother, turned to one of those DNA kits. (The play's title, Spit, is an ironic reference to the saliva that is collected to enable DNA analysis.) As it happens, Jessica and Nicole had gifted their mother with one of those kits, too. And so it was that the connection was made. Now Allanah is on the doorstep.
The sisters are initially resistant. Jessica is convinced it's a scam. The more new-agey Nicole is open to the possibility that Allanah is telling the truth. Eventually they come to realize that their mother was the victim — and for once this overused term is absolutely accurate — of the Catholic church's systematic and sadistic cruelty towards unwed mothers.
Young, unmarried girls and women unfortunate enough to get pregnant in a country in which all forms of birth control were illegal and in which out of wedlock births were a source of deep familial shame were delivered into a gulag of church-run institutions that were little better than concentration camps.
There, subjected to constant psychological and physical cruelty, forced to work in humiliating and dangerous conditions, these women came to term and gave birth, often in agony, deprived of any pain-relieving medication, only to have their newborns torn from them and illegally adopted to the United States and Canada.
The rate of infant mortality was appalling. The nuns who managed these torture chambers were allotted one pound by the state to bury these "little angels," as conventional Catholic piety might have it. Instead, they pocketed the cash and buried the children in unmarked mass graves. In 2014, it was discovered that 796 babies had been disposed of in a septic tank.
Playwright Brown sketches in this history deftly in the interaction between the initially hostile (Jessica) and cautious (Nicole) sisters and the earnest Allanah. Rather than surrender to the powerful emotions that the situation might suggest, Brown wisely, in my estimation, chooses to use the situation as a teachable moment.
We learn not only about the horrors of Ireland's all-too-recent past, but of the ways in which the country, spurred on by revelations like this, has changed for the better. We discover that the unmarried Nicole is pregnant and that, while she knows she could terminate the pregnancy if she wanted, she has with her partner's enthusiastic agreement decided to keep her child. Abortion was legalized in Ireland in 2018. We learn, too, that Allanah is gay, a revelation that causes nary a raised eyebrow from Nicole and Jessica. Same sex marriage was legalized in Ireland in 2015.
At play's end, these three women have taken the first steps toward becoming a family, which in fact they are. Brown's not inconsiderable accomplishment in Spit is that she has written a play that not only condemns Ireland's past but that offers a hopeful vision of her future and does so with touches of humour that are quintessentially Irish.
Terrific performances have become so much a hallmark of Here For Now productions that it seems almost redundant to say that the three actresses here are perfectly wonderful. O'Hanlon and O'Malley, a co-founder of Here For Now, are products of Trinity College Dublin's Lir Academy of Dramatic Art and Mongillo, who turned in a devastating performance recently in Here For Now's production of Girls & Boys, is a graduate of LAMDA. The investment in training clearly paid off.
Credit, too, is due to Stratford Festival stalwart Seana McKenna, whose steady hand on the directorial tiller kept Spit from tipping into melodrama. Bonnie Deakin (sets and costumes) and Stephen Degenstein (lights and sound) make their usual solid contributions.
If the issues touched on in Spit intrigue you, may I recommend Fintan O'Toole's We Don't Know Ourselves, which chronicles the transformation of Ireland from an almost medieval theocracy to one of the most socially liberal nations in Europe during the author's lifetime.
Spit plays through September 4, 2022. For more information, visit the Here For Now Theatre website.
Don't miss another review. Follow OntarioStage on Twitter.