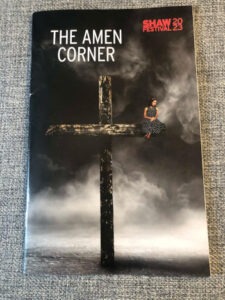 The Amen Corner At The Shaw Festival
The Shaw Festival's production of The Amen Corner, James Baldwin's searing tragedy set in a Pentecostal church in 1950s Harlem, marks the first time a play by a Black author has graced the mainstage of the Festival Theatre. Having seen Kimberley Rampersad's blockbuster production, it's hard to image how Shaw could have mounted it anywhere else.
The Amen Corner is semi-autobiographical. Baldwin became a preacher in a humble church much like the one depicted in the play when he was just fourteen. His vocation was apparently driven by his growing awareness of his sexuality.
Baldwin took that raw material and transformed it into a work of immense power, which like Alice Childress's Wedding Band at the Stratford Festival, is belatedly being recognized as a major work of twentieth century American theatre.
The Amen Corner tells the story of Margaret Alexander (Janelle Cooper) and her struggles to raise her 18-year-old son, David (Andrew Broderick) and retain her position as pastor to her flock. Her church is a modest room above her equally modest apartment. Her flock arrives via an exterior staircase although senior members of the congregation often come downstairs to kibbitz in the pastor's kitchen with Margaret and her sister Odessa (Alana Bridgewater).
David is a self-taught musical prodigy who plays the piano during the church's services. Margaret intends for him to succeed her as pastor; David it turns out has other plans.
Margaret has built her considerable stature as pastor with the force of her personality and tales of how she was abandoned by her drunken, no-good, jazz-playing husband. In that trauma she discovered her calling to minister to the Lord's people.
Complications arise when David's father Luke (Allan Louis) reappears after an absence of some ten years and some uncomfortable home truths emerge. We, and eventually the senior members of her congregation, learn that Margaret isn't the abandoned spouse she claims to be. It was she who left Luke.
As David and Luke become reacquainted we learn that David has been lying to his mother. He goes out at night not to study music but to listen to and play jazz, which in his mother's eye's represents the gateway to Hell.
Meanwhile, Margaret's flock is growing restive. Sister Rose (Monica Parks) is becoming increasingly assertive. Brother Boxer (David Alan Anderson) is chafing at Margaret's insistence that he turn down a decent paying job driving a liquor delivery truck and both he and his wife (Jenni Burke) seem bothered that their contributions to the church might be financing the pastor's shiny new Frigidaire. Rebellion is brewing in the ranks.
Finally, Margaret and the terminally ill Luke come to grips with their shattered relationship and what might have been. For his part, David makes the decision to leave home and go out into the world. In his parting speech he declares, "I've got my work to do, something's happening in the world out there, I got to go!"
It's a beautiful moment that, in its very lack of specificity, raises The Amen Corner to universality. It conjures images of the nascent civil rights era, of every young man's quest for what being an adult means, and Baldwin's own quest for meaning as a gay man in a hostile America, themes he would grapple with in his novels and essays.
All this is played out against vibrant scenes of Pentecostal worship accompanied by full-throated gospel singing. Along with Baldwin's acutely observed dialog and his fully rounded characterizations, it's a heady brew.
The Amen Corner is all the more impressive as a piece of theatre when you realize that it was Baldwin's first play, written before he was thirty. It has the self-assurance of a work by a fully mature playwright. Baldwin went on to write just one more play, 1964's Blues For Mister Charlie.
Notable, too, is that this young man wrote a powerful and tragic lead role for a woman of middle years, one that every Black actress who aspires to greatness will covet. It's fair to say that in this production Janelle Cooper achieves that greatness. Hers is a magisterial performance, the kind that standing ovations should be reserved for. She got one from me.
Then again, everyone in the large cast is excellent right down to Caitlyn MacInnis in the small role of Ida Jackson, who cries out in spiritual agony to God for an explanation of why He has taken two children from her. It doesn't hurt that Baldwin has gifted every role with the kind of dialog actors dream of being fortunate enough to embody.
Another major character in The Amen Corner is the set, a two story affair that sits on a massive turntable that rotates through 360 degrees, opening up the forestage to represent the streets of Harlem. At first I thought that Judith Bowen was working the same magic she brought to 2019's The Ladykillers. But no, this set is the handiwork of Anahita Dehbonehie and it is terrific down to the smallest acutely observed detail of the Alexander apartment. Perhaps, revolving sets will become something of a recurring motif on the Shaw Festival mainstage. I certainly wouldn't complain.
A. W. Nadine Grant does similarly impressive work with costumes that capture both the striving and strictures of these upright Pentecostalists. Mikael Kangas has devised lighting that meshes beautifully with the set's peregrinations and Jeremiah Sparks and Paul Sportelli have collaborated to bring the play's gospel music, so crucial to the story Baldwin tells, to glorious life.
Hats off to Kimberley Rampersad for marshaling all these elements into a superb production. She is as at home on the Shaw Festival's mainstage as she was seemingly flummoxed by the Stratford Festival's thrust stage where she directed King Lear earlier this season. And The Amen Corner is a major leap forward from Rampersad's production of Man and Superman in 2019.
Every major theatre company in Ontario has made a more or less conscious effort to "tell more Black stories," to use a phrase I heard from Stratford Festival artistic director Antoni Cimolino. Productions like The Amen Corner give the lie to any notion that this effort reflects mere performative virtue signaling.
The Amen Corner is a major achievement by whatever measure you might choose to use. How sad then that there were so few Black people in the audience with which I saw the show. Clearly much work remains to be done.
The Amen Corner continues at the Festival Theatre in Niagara on the Lake through October 8, 2023. For more information and to purchase tickets, visit the Shaw Festival website.
More Reviews
To access the complete archive of reviews listed alphabetically CLICK HERE.