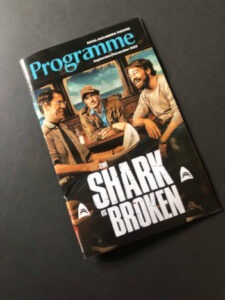 The Shark Is Broken At The Royal Alexandra
The Shark Is Broken, Ian Shaw's heartfelt homage to the memory of a father he hardly knew, is receiving a sterling production at Mirvish's Royal Alexandra Theatre in Toronto.
Shaw and co-writer Joseph Nixon imagine the frictions and frustrations experienced by actors Robert Shaw (Ian Shaw), Roy Scheider (Dimitri Goritsas), and Richard Dreyfuss (Liam Murray Scott) as they suffered through the 159 days of filming Jaws, the 1975 blockbuster movie that is credited with (or blamed for) spawning the annual onslaught of wannabe blockbuster movies.
How much of the play is fact and how much fiction is a matter of conjecture, but Shaw tells us in the programme that he had access to his father's "drinking diary" and he almost certainly consulted "The Jaws Log," co-screenwriter Carl Gottlieb's hit book about the making of the film.
The Shark Is Broken began life as an hour-long piece at the Edinburgh Festival. It was expanded to its current intermissionless 90 minutes for a successful West End run. It is that cast that Mirvish has brought to Canada.
Intimate plays like The Shark Is Broken often suffer as their success takes them to ever larger theatres. The current production avoids this fate thanks in no small part to an exquisite set by Duncan Henderson (with evocative lighting by Jon Clark), a cutaway view of the Orca, a fishing boat owned by Quint (played by Shaw), that is set in an expansive and often astonishing video panorama by Nina Dunn. The weather changes, lightning flashes, the boat rocks in stormy seas. On clear nights the sky fills with stars. At one particularly apt moment, a shooting star streams across the firmament, the pathetic fallacy at work. Dunn's work was like a fourth character in this three hander.
The other, more important element that makes The Shark Is Broken work is the powerful performances by actors who know how to play to a 1,000-seat house.
Most astonishing is Ian Shaw, who bears an uncanny resemblance to his father. He is roughly the same age as his father was when the film was shot. Watching him portray his father's struggles with alcoholism and the indignities of the actor's life – he would much rather spend his time writing – lends an undeniable poignancy to the proceedings that I, for one, found quite moving. He even gets to recreate some of his father's performance in the film. He meets that daunting challenge beautifully.
Dimitri Goritsas bears a more than passing resemblance to Roy Scheider and he brings a suitable gravitas to Scheider's role as the buffer between the more volatile characters of Shaw and Dreyfuss. Liam Murray Scott as Richard Dreyfuss is less successful in the doppelgänger department, but his intense performance quickly made me forget that. Goritsas is Canadian (although he has plied his trade in the UK) so he comes by his accent legitimately, but Scott is an exemplar of the new breed of English actors who have mastered flawless American accents.
As always in the case of an ensemble working so well together, significant credit must be given to director Guy Masterson.
The making of Jaws may see like odd grist for the theatrical mill, but Jaws seems to be in the air. Maybe it's because of the approaching fiftieth anniversary of the film's release? Donna Feore, who mounted a stunning Chicago at the Stratford Festival this season, is working on Bruce, a musical about the making of the film and a Broadway hopeful. It received not so good reviews during its Seattle tryout.
Some have surmised that The Shark Is Broken will only appeal to those who are fans of the film or at least very conversant with it. That may be true to some extent, but if you haven't seen the film the programme contains a very interesting feature that will provide all the background you need. In any event, I feel the material has a much broader appeal.
Shaw and Nixon do a masterful job of delineating the dynamics of alpha males in close quarters as they wrestle with a shared problem. Legendary B-movie director Budd Boetticher boiled down the essence of his cowboy movies to this: "A man has a job to do, or a couple of men. They try to do it against tremendous odds. They do it." The Shark Is Broken is a perfect illustration of that dictum.
It is also quite funny in places. Most of the humour revolves around what we know about events that postdate the filming of Jaws. At one point, Scheider opines that we will never see an American president more amoral than Richard Nixon. When Dreyfuss mentions that Steven Spielberg has asked him to appear in a film about UFOs, Shaw scoffs, "Aliens! What next? Dinosaurs?"
Singin' In The Rain, which is running down the Street at The Princess of Wales, may have its eyes on Broadway. In my opinion, The Shark Is Broken has a better chance of weathering the stormy seas of the New York critical establishment. Time will tell.
The Shark Is Broken continues at the Royal Alexandra until November 6, 2022. For more information, visit the Mirvish website.
Don't miss another review. Follow OntarioStage on Twitter.
For a complete Index of Reviews, CLICK HERE