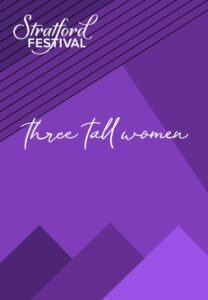 Three Tall Women Streaming on Stratford@Home
Edward Albee has legions of devoted fans. I am not among them. But I soldiered through the Stratford Festival's nicely observed production of Three Tall Women, now streaming on its Stratford@Home platform, to savour Martha Henry's final performance.
What a performance it was! Henry was dying of cancer when she took on this role; she died mere days after the final performance. I can only imagine that she was in considerable pain and discomfort. You'd never know it from this fierce and powerful tour de force.
Her considerable vocal skills didn't seem to be diminished a whit as she roared, whispered, and purred through her devastating portrait of an elderly woman with a fragile hold on reality and a death grip on a laundry list of grievances. The fact that she played the part in a wheelchair did not prevent her from giving a towering performance. It may be tacky to put it that way, but it is nonetheless true.
No one can compete with Martha Henry, especially since Albee has given her character the lioness's share of the good lines and powerhouse monologues. Even so, Mamie Zwettler distinguishes herself by simply listening and Lucy Peacock holds her own in a less flashy role.
Diana Leblanc has orchestrated these three performances well and doesn't attempt to impose logic where none exists, which is a blessing. Francesca Callow's handsome sets perform a similarly understated role. Barry Avrich directed for the screen with some judiciously chosen close-ups.
Anyone who cares about the art of acting owes it to themselves to grab a subscription to Stratford@Home to watch this production and Martha Henry's performance. At a mere $10 (CAD) a month, which currently translates to about $7.77 US, it's the best streaming bargain out there. The Festival made a special arrangement with the Albee estate to make this showing possible and I'm assuming it will only be available for a limited time. Carpe diem.
So much for the performance. What of Three Tall Women? The three women of the title are labeled artsy-fartsily in the programme as A, B, and C. In Act One, we spend time with A (Martha Henry) a wealthy, aged, and sickly woman wandering in and out of dementia. She is being looked after by the long-suffering B (Lucy Peacock), a hired caregiver. Visiting is C (Mamie Zwettler), a young emissary from A's lawyer's office, whose mission is vague but which might have to do with gathering signatures on important documents.
In Act Two the three women become one woman, or rather the same women at various ages – 26, 52, and death's door. They engage in rancorous conversation with each other. There is much talk of their height even though none of the actresses playing them are particularly tall, but that hardly matters.
So what's it all about, Albee? I am reminded of a favourite line from Robert Coles' unjustly obscure backstage comedy, Cute Boys In Their Underpants. When the director of the gawdawful play within the play is asked what it's about he can only respond, "It has many themes."
The blurb on the Stratford@Home site tells us that Albee saw this play as an "exorcism" of a fraught relationship with his adoptive mother. Good for him; I hope it helped. The blurb goes on to tell us that Three Tall Women "is a profound meditation on aging, death and the very nature of the self."
Well, yes, life is hard, especially the aging bit. And, yes, our beginnings never know our ends. And, yes, death offers us an often welcome chance to pack up all our cares and woes. But we don't need Albee's ghost come from the grave to tell us any of this.
What Albee has going for him – and this is not to be discounted – is an undeniable facility with words and the ability to craft often spellbinding speeches for his characters. What's lacking for me in his post-Virginia Woolf plays is a suitably compelling dramatic structure in which to showcase these gems. What we get instead is a sort of glib, surface-y "modernism," "absurdism," "Buñuelian surrealism" – call it what you will. That seems to be more than enough for his many admirers and I won't argue with them.
Albee's way with words is the major reason great actors line up for a chance to chew his absurdist scenery. That is why, I suspect, his work is so frequently revived. As Billy Flynn says in Chicago, "Give 'em the old razzle-dazzle."
So fair enough. Three Tall Women, or more specifically Martha Henry's performance, will leave you dazzled as it did me.
[I was unable to attend the Stratford Festival's truncated 2021 season because the border was closed to "non-essential travel" during the pandemic. However, the plays presented that season were filmed and are currently available on Stratfest@Home, the Festival's very own streaming service. This is one of a series of reviews of those plays.]
Don't miss another review. Follow OntarioStage on Twitter.
For a complete Index of Reviews, CLICK HERE