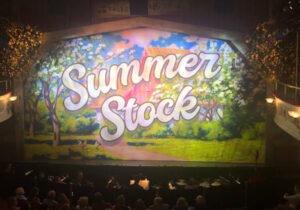 Summer Stock At Goodspeed Musicals
Summer Stock, the horribly dated 1950 film starring Gene Kelly and a fading Judy Garland, has been transformed into a "new musical comedy" at Goodspeed Musicals in East Haddam, CT. The big question for anyone who remembers the film is "Why bother?"
There are two answers to that question: Cheri Steinkellner (Book and Additional Lyrics) and Donna Feore (Director and Choreographer).
Their source material was not promising. The film is a tired recycling of movie cliches. There's the Garland/Rooney formula of plucky, starry-eyed troupers putting on a show in a barn in hopes of Broadway glory. Then there's the unknown who saves the show trope from Forty-Second Street. Kelly himself thought the script for Summer Stock was "a piece of crap" and, having suffered through the film as part of my due diligence for this review, I can't disagree.
The good news is that Steinkellner and Feore have transformed the sow's ear of Summer Stock the film into the silk purse of Summer Stock the musical comedy.
Steinkellner, who earned her spurs as an award-winning producer and writer on the TV series Cheers, has retained the broad outlines of the Summer Stock plot while creating an entirely new and vastly superior through line to the story that makes much more dramatic and emotional sense. Her reworking still pays homage to all the show biz schmaltz that underlays Summer Stock and many films like it, but she does a far better job than most of them.
In Steinkellner's version of Summer Stock, Jane Falbury (Danielle Wade) and "Pop," her father (Stephen Lee Anderson), are struggling to hang on to the family farm. Their farm is one of the few in the Connecticut River Valley that hasn't been absorbed by the Wingates, whose holdings completely surround theirs.
The widow Margaret Wingate (Veanne Cox), whom son Orville (Will Roland) aptly describes as having eyes "as cold as death itself," plans to absorb the Falbury farm by the simple expedient of having Orville marry Jane. After all the two kids had decided they were engaged in first grade!
Enter the prodigal younger sister Gloria (Arianna Rosario) who has been seduced by the lure of the Great White Way. She returns to the farm bringing along Joe Ross (Corbin Bleu in the Gene Kelly role), the director of the show that will make her a star, its composer Phil Filmore (Gilbert L. Bailey II), and the entire company. She has generously offered the company, which can't afford rehearsal space in New York, the use of the family farm's barn. Sister Jane reluctantly agrees to the intrusion with the proviso that the thespians will double as farm hands.
As rehearsals progress, Phil discovers that Orville, a bit off a doormat who has been raised with the understanding that he will never have to work, is a musical wunderkind. He is enlisted to work his magic on the show's score and begins to blossom.
Widow Wingate takes umbrage with all this and vows to shut the enterprise down. Fortunately, the cold embers in her soul are stirred to renewed life by her encounter with Montgomery Leach (J. Anthony Crane), the has-been ham enlisted to give Ross's show some cachet, so all might not be lost.
Steinkellner's Summer Stock does a canny job of cherry picking the very few songs from the film that actually work, including the marvelous "You Wonderful You" and "Get Happy."
If Summer Stock, the film, is remembered for anything it's for a slimmed down Garland's rendition of "Get Happy," for which she wore a sexy (if unexplained) outfit of a black tuxedo jacket and sheer black nylons. Summer Stock, the musical, offers a more than respectable reprise of that number.
Steinkellner adds many more catchy numbers, often in slimmed down versions, to move the plot along. It helps that they are all familiar standards that virtually everyone will recognize. "Happy Days Are Here Again," "Accentuate The Positive," "It's Only A Paper Moon," "Me And My Shadow," "Red Hot Momma," and others are all used in clever and perfectly organic ways.
They make this Summer Stock a veritable feast of nostalgia. I was especially taken by the amusing way Steinkellner used Jackie Gleason's theme song "Always" to further widow Wingate's plot to get Jane and Orville hitched.
In another nice touch, Steinkellner has given Joe, Pop, and others a military backstory. Shades of White Christmas!
Of course, films like Summer Stock were intended as celebrations of show business and all its endearing cliches. Summer Stock, the musical, succeeds in ways the film did not.
For starters, characters in the film wish each other "good luck" before the show. Anyone who has spent any time at theatre camp or community theatre knows this is a major no-no, one sure to bring down the wrath of the theatre gods.
In Steinkellner's musical someone makes the same mistake but it is turned to brilliant effect to explain why Jane is wearing nothing but sheer black nylons below that tux jacket.
Orville, who has found personal liberation in show biz, is accorded a moment that reminded me of a similar scene in the musical version of The Producers. In a triumphant declaration of his emergence from under his mother's thumb he exults, "I'm in the theatre! And I love it!" The audience loved it, too.
The other major contributor to the success of Summer Stock is the director and choreographer Donna Feore, Those who have followed her career at the Stratford Festival in Canada will need no introduction. American audiences at Goodspeed Musicals may be getting their first look at this protean talent.
Over the years at the Stratford Festival Feore has nurtured and developed one of the greatest dance corps in North America. She has worked with the dancers in Summer Stock for a far shorter period of time but has clearly chosen gifted dancers and encouraged them to give their best.
Gene Kelly was a tap dance legend and any adaptation of Summer Stock is honour bound to acknowledge that heritage. Corbin Bleu, who is best known for his work in the High School Musical franchise, fills the bill beautifully. He has several opportunities to display his tap bona fides and he excels in all of them.
In the film, Kelly has a solo number that involves dancing on and ripping apart a newspaper. It's a fun number about a dancer at ease trying out new steps. Bleu's rendition, under Feore's direction, becomes a moving meditation on his growing attraction to Jane.
Feore's choreography is supremely kinetic and athletic and her work in this Summer Stock does not disappoint. Several numbers received such sustained applause that I fully expected the ensemble would be forced to provide an encore.
In less acrobatic numbers Feore's close attention to simple touches like the positions her dancers' hands take as they freeze into place at a number's end can take your breath away. On Goodspeed's smaller stage she doesn't have the luxury of the space that Stratford's Festival stage offers, but she has not let those limitations prevent her from providing a maximum of thrills.
As director, Feore has elicited some wonderful performances, especially from subsidiary characters. Veanne Cox is splendid as Margaret Wingate as is J. Anthony Crane as Montgomery Leach, the faded matinee idol. Will Roland (Orville) and Gilbert L. Bailey II (Phil) both have wonderful moments and their intense professional friendship is one of the show's highlights.
Summer Stock is a big, sprawling musical extravaganza – at least it should be. So the Goodspeed's somewhat intimate stage presents some challenges. Wilson Chin (sets), Tina McCartney (costumes), Jeff Croiter (lighting), and the always reliable Adam Souza (music direction) have risen to the challenge admirably.
I have followed Donna Feore's career at the Stratford Festival since 2009. I have marveled at her artistry and am fully convinced that she is the most gifted director/choreographer working today. As much as I cherish her work at Stratford, I can't help but think that she deserves the wider acclaim that only comes with a Broadway or West End smash.
After a resounding success with her completely reimagined production of Chicago in 2022, the Toronto Star reported that Feore would take a break from Stratford revivals to seek out opportunities with new work. Two outings in Seattle with new musicals clearly aimed at Broadway were not treated kindly by critics and now seem to be in abeyance if not completely dead.
The question then is will Summer Stock transfer to Broadway? Goodspeed, after all has a track record of sending shows it has premiered to NewYork, Annie, and Man of La Mancha among them. Come From Away also started there as a staged reading in 2013.
My crystal ball is distinctly cloudy on this matter. I enjoyed Summer Stock immensely and as a shameless Feore fan I'd love to see it transfer to Broadway. However, I see it as more likely to be successful as a touring show visiting what Variety, the show biz bible, used to refer to as "the sticks."
The problem is Summer Stock is a resolutely old-fashioned musical of the sort that is distinctly unfashionable these days, at least in the eyes of New York critics.
It doesn't deal with a "fat, Black queer body" (A Strange Loop). There are no nonbinary actors portraying women (Some Like It Hot, Shucked). It's not a lesbian coming of age story (Fun Home), nor does it deal with mental illness (Next To Normal) or a hideous disease (Kimberly Akimbo).
On the other hand, the packed house with whom I saw the show absolutely loved it. They cheered and whooped and applauded lustily and long for every number. Yes, it was a predominantly older audience, but the same could be said for American theatre in general.
It may be that it's status as something of a throwback could become its "unique value proposition." There have been articles recently in the New York Times and the Washington Post warning of the imminent demise of American theatre.
A substantial percentage of those who left comments on these articles, while sympathetic to theatre with a "message," expressed a longing for more theatre-as-entertainment.
Could Steinkellner's and Feore's Summer Stock be the show that helps American theatre survive its current travails?
Anyone want to start a pool?
Summer Stock continues at Goodspeed Musicals in East Haddam, CT, through August 27, 2023. Fior more information and to purchase tickets visit the Goodspeed Musicals website.