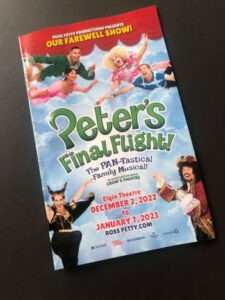 Peter's Final Flight at the Elgin Theatre
Ross Petty is a Canadian institution, and for devotees of the theatrical form known, somewhat inaccurately, as pantomime, his production of Peter's Final Flight at Toronto's magnificent Elgin Theatre is not to be missed.
(Canadian readers can take a break here, as the next several paragraphs are for the benefit of my American readers.)
Pantomimes, or "Pantos," are a British theatrical art form (and I use the phrase loosely), most frequently staged during the Christmas holiday season. These are musical entertainments squarely aimed at very young children, but beloved by their elders.
Pantos are characterized by a plot (of sorts) based on a well-known story popular with kids (Peter's Final Flight uses J. M. Barrie's Peter Pan); musical numbers that are renditions of popular songs, sometimes with new lyrics; a campy style of acting or overacting; joyful disregard for the fourth wall and extensive audience participation (kids are regularly prompted to boo the villain); often lowbrow humour that draws on topical references; and mildly naughty double entendres that will not corrupt the youth but make their parents chuckle.
Pantomime is, I think it's fair to say, something of an acquired taste if you come to it later in life. Most of those who were exposed to it in childhood continue to at least tolerate it enough to introduce their kids to it and a substantial subset find it every bit as enjoyable as they did when they were young. Having been introduced to pantomime during my schooldays in England, I fall into the latter camp.
According to my research, pantomime became a fixture on the Toronto stage thanks to Paul Elliott, a Brit who in the early 80s began importing English pantos, using mostly English actors along with a few token Canadians. Petty worked as an actor and later co-producer of these shows. When Elliott retired, he passed the baton to Petty.
Since 1996, under Petty's management, the form has flourished, becoming steadily more Canadian in tone and content – and apparently ever more popular since his pantos regularly fill the 1,200-seat Elgin. Petty streamlined some of the traditional elements of panto but (thank the Lord!) retained the "pantomime dame," a grotesque parody of a woman played by a man in ludicrous drag.
(You Canadians can rejoin us now. Thank you for your patience.)
Peter's Final Flight culminates 25 years of pantomime under Petty's guidance. For many of those years he played the villain, but retired from performing in 2015. For Peter's Final Flight, billed as "Our Farewell Show," he couldn't resist taking one more boo . . . I mean bow.
For perhaps obvious reasons, Peter's Final Flight is both very self-referential and very self-reverential. In Matt Murray's well-constructed script, the main action is presented as a show within a show, and Petty appears not only as Captain Hook (his favorite villain role, I am told), but also as himself in his role of producer.
When Peter's Final Flight opens we discover we are seeing the dress rehearsal of the actual play Peter Pan, with Alex Wierzbicki assaying the title role opposite the social-media-obsessed Stephanie Sy, as Wendy. Both prove to be adept musical performers.
Enter Plumbum, Dan Chameroy's glorious pantomime dame, appearing for the tenth time in a Petty panto. For those not paying attention, Chameroy played the slick lawyer Billy Flynn in the Stratford Festival's Chicago this season. The transformation is astonishing.
Plumbum is the pre-eminent fairy in Neverland (she claims Barrie patterned Tinkerbell on her) and she has come to fetch Peter. Somehow, she confuses the actor with the real thing.
Back in Neverland, the sublimely evil Helga Hook (Sara-Jeanne Hosie) is bent on revenge for the death of her beloved husband. Smee (the always delightful Eddie Glen) has become her sidekick and before long the ersatz Peter Pan is in her sights. The plot, which is more coherent than a lot of panto plots, hardly matters here.
Far more important in Peter's Final Flight are the spectacle, the musical numbers, the deliciously hammy performances, the abundant ad libs, and the cracked-up cast members they generate. Here this production excels.
Chameroy leads a rousing version of "Eye of the Tiger" and is responsible for a good bit of the show's double entendres. At one point, speaking of her collection of marbles, Plumbum says "I'm going to lay my sack of tiny balls on this tree stump." At the opening of another scene, Plumbum is obviously wrapping up a story and says "… and that's just one advantage to being double-jointed."
An underwater sequence features a trio of glamorous and self-involved mermaids, dubbed the Karsplashians, who refuse to help our heroes until they learn that Wendy's skill at social media will give them access to the holy grail that is Tik-Tok.
Hosie is simply splendid as the villainous Helga. If panto has a future in Toronto, Hosie has a sinecure. Glen knocked it out of the ballpark in a lip-syncing number that had me completely fooled until he gave it away; he does a wonderful job of playing Helga's toady while letting us know that he is actually on the side of the angels. A bit in which he tries – and fails – to kiss her was hilarious.
Petty's too-brief appearances as Hook, in a flashback and as Hook's ghost, made me regret never having seen him when he actually played the villain role. As himself, in modern dress, he cuts an elegant figure.
At one point in a scene with Petty the producer, Plumbum roars with laughter at the very idea of anyone producing theatre in Canada, which drew a big laugh. I couldn't help thinking it was a perhaps unconscious expression of a totally unjustified Canadian inferiority complex, given the fact that British imports are a major ingredient of Toronto's version of Broadway and that the Poutine Curtain insulates most Americans from any awareness that Canada has any culture at all beyond hockey.
Plumbum goes on to say, "It must have been quite an adventure," to which Petty replies "I can truly say [choking up ever so slightly] it was the greatest adventure of my life."
The moment was absolutely shameless and utterly delightful. The audience sprang to its feet and treated Petty to a prolonged standing ovation. The love that suffused the Elgin in that moment was palpable.
Tracey Flye directed admirably, keeping the pace through innumerable scenes and costume changes for the hard-working ensemble. She even has a voice-over cameo as the director of the play within the play!
Fulsome praise must be accorded to the sets of Michael Gianfrancesco, the deft lighting of Jareth Li, and the witty costumes of Ming Wong, especially Helga's smashing outfit. Wong seems to have been everywhere this year – Stratford, Shaw, and Crow's Theatre – creating very different costumes for each.
A special word of praise is due Cameron Davis for his magnificent and beautifully rendered projections which are used to set every scene. A tip of the hat, too, to sound designer John Lott, who is doing his bit to prime the eardrums of little kids for the deafening rock music that will be their inheritance.
I am a puzzled by the fact that, apparently, Ross Petty has made no arrangement to pass on the baton that Elliott passed to him in 1996. I am just a wee bit suspicious that this means that come next Christmas we will learn that Petty has been lured out of retirement "by popular demand." That would be wonderful. Perhaps, like Bernhardt before him, he could go on giving "farewell performances" well into his dotage.
If not, someone should step into the breach. It would be a shame if this holiday tradition disappears from the Toronto stage.
Peter's Final Flight continues at the Elgin until January 7, 2023. For more information and to purchase tickets, visit rosspetty.com.
Don't miss another review. Follow OntarioStage on Twitter.
For a complete Index of Reviews, CLICK HERE
---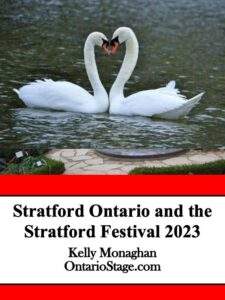 ---