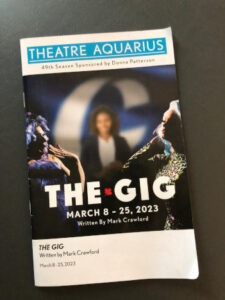 The Gig at Theatre Aquarius, Hamilton
Playwright Mark Crawford has always mixed social commentary with his deceptively light comedies. Bed and Breakfast explored changing attitudes toward the love that dare not speak its name in the strange, straight world outside Toronto; The New Canadian Curling Club dealt with anti-immigrant prejudice. His latest play, The Gig, now enjoying its world premiere at Hamilton's posh Theatre Aquarius, is his most successful effort yet at blending light comedy with high seriousness.
The plot summary sounds like pure farce. Three drag queens put on a show – the "gig" of the title – at a campaign launch and fund raiser for a conservative candidate for parliament. What could go wrong? Quite a lot, actually.
Laura Nelson (Philippa Domville) is running for parliament in a conservative riding (that's "district" for my fellow Americans), to replace fellow conservative, Jim Wright (Jim Meson), who has been forced to "retire" over a conflict of interest issue.
Laura is running on the never-changing platform of "Change!" Her campaign manager Karyn ("not a Karen") Sloane (Lisa Horner) has asked Laura's brother, Terri Tucker (Steven Gallagher), a successful PR exec who moonlights on weekends as a drag queen, to put on a show for Laura's campaign kick-off. What a fun way to make the point that the winds of change are wafting through the conservative party!
Terri dutifully rounds up two confederates, the retired Fonda De Behrs (Neil Barclay in an inspired bit of casting) and Ms. XXX Box (a splendid Jaime "Lucinda Miu" Lujan), a young up-and-comer. He has, however, neglected to tell them who the audience will be. When they find out they are livid and refuse to go on.
Anguished discussion ensues with Fonda suggesting that they take the opportunity presented to épater les bourgeois by speaking truth to power in the most insulting ways possible. Terri seems to succeed in talking them into simply doing "the gig." Then an argument in which Laura gives vent to her true feelings about drag makes him change his mind.
Further complications arise with the arrival of Jim Wright himself, who muscles in on Laura's big night, but who shows a surprisingly enlightened attitude toward drag.
Most of the second act is given over to a raucous and raunchy drag show for which the word "transgressive" seems to have been invented. What starts out as wildly humorous turns deadly serious. The aftermath of "the gig" is not pretty.
There is plenty of sit-com style comedy in The Gig, much of it quite good.
"You are an excellent politician," Fonda purrs at one point.
"Oh, thank you."
"Not a compliment."
When Laura has second thoughts about putting on the drag show, Karyn demurs.
"You can't promise people something and then not deliver."
"Of course we can. It's an election!"
But often the mood turns serious. Fonda's story of years of alcoholic self loathing and hitting bottom ("Not as much fun as it sounds") is heartfelt and his monologue about . . . well, I won't give it away.
Crawford's work in The Gig reminded me a bit of G. B. Shaw. He has created fully rounded characters representing a range of opinions and attitudes. He has given each of them an opportunity to speak their own personal truth with conviction and passion. He doesn't condescend to any of them. There are no cardboard villains or comic book heroes in this piece.
Crawford also does a far better job of giving voice to the whys and wherefores of drag culture than the rather ponderous Sound of the Underground which I saw at London's Royal Court recently.
Director Morris Panych has assembled a stellar cast and guided each and every one of them to give their best.
Neil Barclay, whose rendition of Lane in last season's Importance of Being Earnest at Shaw was the best I've ever seen, demonstrates his impressive range as Fonda De Behrs. Steven Gallagher is solid as Terri and Jaime Lujan, a bona fide drag queen, is absolutely terrific as the bitchy Ms. XXX Box. A tip of the hat is also due Natascha Girgis in the small role of Dani, the mannish lesbian tech person at the event venue who becomes a rising "drag king" in the drag show.
While the drag queens are the stars of The Gig, I was every bit as impressed by the women. As the drag aficionado Karyn, Lisa Horner goes from giddy high comedy to crushed disillusionment over the course of the play and does it brilliantly. Philippa Domville makes a formidable Laura. Her parlous relationship with her brother and her passionate drive to be of public service are utterly believable.
Finally, Jim Mezon is spot on and quite funny as blowhard Jim Wright, who after all we have heard about him surprises us when he finally appears.
As set designer, Jackie Chau elegantly solves the problem of setting this rather intimate piece on Theatre Aquarius' Broadway-sized stage. As costume designer she excels, especially in the drag show. Fonda De Behr's outfit for her big number is absolutely smashing and makes you wonder why more "men of size" don't choose drag.
At play's end, Crawford leaves a few threads hanging, which bothered me at first until I realized it was a perfect ending in today's cultural climate. Old ways are dying, new attitudes are coming into being raising questions that, for now, remain unanswered.
Perhaps, as Fonda De Behrs suggests, "F**k you!" is the beginning of a conversation.
The Gig continues at Theatre Aquarius through March 25, 2023. For more information, visit the Theatre Aquarius website.
Footnote: Mark Crawford is also an actor of some note. He is currently appearing as the Station Master in the long-running Harry Potter and the Incredibly Expensive Ticket in downtown Toronto. It's been a good year for him.
Don't miss another review. Follow OntarioStage on Twitter.
For a complete Index of Reviews, CLICK HERE