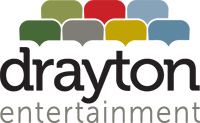 Why Drayton Is Important
I had been coming to Canada for several years, sampling the theatrical riches of the Stratford and Shaw Festivals, before I discovered the Blyth Festival and added it to my theatre-going repertoire. It was several more years before I discovered the archipelago of theatres operated by Drayton Entertainment. What the hell took me so long?
I may be wrong (I frequently am) but I would guess that Drayton is well off the radar screen of the average visiting American for whom Shaw and Stratford have long been favored destinations. In fact, I wonder how many regulars at Shaw and Stratford ever take in a show at one of the Drayton theatres. I would love to see a Venn diagram of the audiences of the Shaw Festival, Stratford Festival, and Drayton. My guess is we'd see a fair amount of overlap between Shaw and Stratford, but less from the Drayton audience. Again, I may be wrong and if anyone knows different perhaps they will be good enough to set me straight in the Comments section.
What is Drayton Entertainment?
Drayton Entertainment is not a "festival" a la Stratford, Shaw, or Blyth. It has no "repertory company." It is a professional, non-profit theatre organization founded in 1990. It is still run by its original artistic director, Alex Moustakas, which must be some kind of a record for longevity. The nearest American equivalent I can think of would be a string of summer stock theatres under a single management.
Drayton Entertainment began with one theatre in the eponymous village of Drayton (pop. 1,880), a forty-five minute drive north of Stratford. It now comprises seven theatres in southwestern Ontario, from the King's Wharf Theatre in Penetanguishene on Georgian Bay in the north to the Hamilton Family Theatre in Cambridge, to the south.
All of the ones I have visited (I have yet to make it to Penetanguishene) are comfortable, even luxurious, venues ranging from 100 seats at the modest St. Jacobs Schoolhouse Theatre to 660 seats at the Huron Country Playhouse near Lake Huron; a smaller second stage at this location has 300 seats. The newer theatres boast state of the art technology and seating that rivals or even surpasses the major festivals' for comfort and sight lines.
The Drayton season runs from roughly early May through Christmas, although none of the theatres operates throughout that period. Of the fifteen to eighteen shows that are mounted in a typical season, none plays at every venue and seldom at more than two. Production values are high and ticket prices are modest, a winning combination.
If I'm right that Americans seldom discover Drayton and the culture vultures who haunt the major festivals all but ignore it, all I can say is it's a doggone shame. Drayton occupies a very special niche in southwestern Ontario's theatrical firmament.
Let me count the ways:
Drayton Can Do What the Festivals Simply Can't
The entirely laudable aim of the two major Festivals to create resident repertory companies that showcase the best talent Canada can afford, while honoring the ideals of equity, diversity, and inclusion, creates some unintended consequences.
The most noticeable of these is that, when casting plays written years ago when the patriarchy ruled the roost and cast lists were largely male, there simply aren't enough men to go around, which is why we see so many women taking on male roles. Sometimes, as with the Stratford Festival's Hamlet this season, the goal is to make an artistic statement. More often it's simply to fill roles, usually minor ones like soldiers, when you've run out of male company members.
The results can be unremarkable or laughable, as in a Shaw Festival production of Cyrano De Bergerac that featured women playing multiple male roles, sticking on and whipping off perfectly silly looking mustaches.
But what if gender and ethnicity are crucial to the meaning of the play? Well, compromises have to be made and not always successfully.
Drayton doesn't operate under these constraints. A perfect example is director Marti Maraden's production of Twelve Angry Men from 2019. This play is very specifically about toxic white male racial prejudice. Make some of the jurors women or BIPOC and the whole point of the play goes out the window. The result of the freedom Maraden enjoyed in casting white actors who were precisely the right age and type for their parts (along with her brilliant direction) made this production the artistic triumph of the season. Neither Shaw nor Stratford could have pulled it off.
Unfortunately, in this post-pandemic era, given the financial hardships all theatre companies are experiencing, it will be a while before Drayton has the wherewithal to mount a similarly ambitious production. Let's hope that time comes again soon.
Drayton Incubates Talent
I'm no expert on the ins and outs of the casting scene in Ontario, but I would hazard a guess that the odds for a young actor getting an audition for a Drayton production are considerably better than getting one for Shaw or Stratford. This allows up and coming performers to hone their craft in relatively low stakes surroundings while waiting for the so-called "big break."
A case in point is Chelsea Preston who is wowing audiences in a star-making turn as Roxie Hart in Donna Feore's smash production of Chicago at the Stratford Festival this season. Prior to being cast by Feore, she appeared in Drayton productions of Grease, Hairspray, and Cinderella: The Panto. Those experiences obviously served her well and I don't think it takes much of a crystal ball to predict that she is a talent who is going places.
Drayton also provides performers a venue in which to spread their wings. I had long admired the work of Mike Nadajewski who spent a number of seasons at the Stratford Festival impressing me in subsidiary roles. He came into his own, at least in my experience, when he was cast as Man in Chair in Drayton's revival of The Drowsy Chaperone. Now he has a starring roles at Shaw, this year in Damn Yankees.
Drayton Values Old-Timers
Far be it from me to accuse any theatre company of ageism, but Shaw and Stratford have a puzzling way of either letting go or losing some of their most experienced and beloved performers. Seana McKenna and the late Martha Henry are exceptions that prove this rule.
In recent seasons I have had the pleasure of seeing terrific actors like Brian Tree, Benedict Campbell, Jim Mezon, Randy Hughson, and Keith Dinicol in Drayton productions, all of them alumni of Stratford and Shaw and all of them splendid.
Drayton Is Family Friendly
Yes, Drayton will mount serious drama. Twelve Angry Men is a perfect example. But for the most part, the straight plays they produce are more likely to elicit adjectives like "uplifting" and "heart-warming" than "searing" or "transgressive." On Golden Pond and Driving Miss Daisy, both slated for this season, are good examples.
Drayton's taste in comedies is also distinctive. While Stratford is presenting Every Little Nookie, a comedy about polyamory and swingers' parties that features full nudity, Drayton is presenting Buying The Farm, a show that is not only, yes, heart-warming, but which speaks to the lived experience of many in the audience.
And if you'd like to dispense with the need to follow a plot, Drayton offers up a regular menu of concert-like shows featuring a variety of middle of the road musical genres, shows like Fiddler On The Loose, The Crooner, and Good Ol' Country Gospel, all scheduled this season.
And let us not forget the musicals, which at Drayton tend to be more "popular" choices like Mamma Mia! and Sound of Music, rather than the more cerebral fare produced by Stephen Sondheim or Brecht. And I doubt we'll see Cabaret at a Drayton venue any time soon.
Drayton Isn't Snobbish
"Middle-brow" isn't a dirty word. Neither is "low-brow." Both of these genres are part of a healthy theatrical diet, the roughage if you will that helps one digest the refined fare of Shakespeare, Strindberg, and Shaw.
Scan the production history of Drayton, and ask yourself, "How many of these plays and musicals would have made the cut at Shaw or Stratford?" Some musicals, yes, but how often does Shaw or Stratford mount Neil Simon or Norm Foster? And how often have you seen plays by these two playwrights and absolutely loved them? I rest my case.
Drayton Does Farce
I'll admit it, I'm a sucker for farce, the lower brow the better. Drayton delivers in this department as well. It is a rare season that doesn't include at least one English farce, usually by the protean Ray Cooney. This season it's It Runs In The Family.
There are strict rules for this kind of farce. Premier among them is the dictum that, if the pretty girl's dress gets ripped off (and why not?), she must be wearing a smashing lingerie set underneath. In my experience, Drayton doesn't always get this right, but I'm willing to forgive them.
Drayton also serves up "pantos," or pantomimes, something of a cousin to farce. Pantomime is a peculiarly English art form in which a popular story like Cinderella, Jack in the Beanstalk, or (this season) The Wizard of Oz is used as an excuse for a raucous, occasionally ribald, gag-filled musical show crammed with topical references. One of the de rigeur elements of panto, and one of the oddest to American eyes, is the "pantomime dame," a ludicrously overstated woman's part played by a man in drag.
English pantomime is a treat that we Americans seldom get to sample. Canadians obviously have stronger connections to the mother country. I'd encourage my fellow countrymen to take the opportunity to see one if their schedule and Drayton's coincide.
Drayton Is Easy on the Pocketbook
I know it's crass to talk about money, but in these inflationary times it's good to know you can enjoy a show without taking on a second mortgage. The top price for a seat at the Stratford Festival's Chicago is over $200. My ticket for Mamma Mia! at Drayton's St. Jacobs Playhouse was $53.
And In Conclusion . . .
What more is there to say? I hope I've made a solid case for the importance of Drayton's place in the theatrical ecosystem of southwestern Ontario theatre. I'd be willing to bet that if you see something at Drayton this year you will agree that, whether you love it or not, it was nothing like what you saw at either of the major festivals. If you're visiting from the States, more likely than not it will give you a story with which to regale the folks back home.
Visit the Drayton website and see what meshes with your travel schedule.